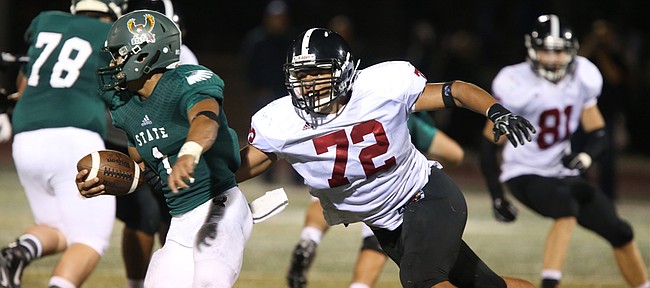 Sources with knowledge of the NCAA's suspension of Oklahoma freshman defensive end Amani Bledsoe because he tested positive for a banned substance are hopeful the Lawrence High graduate's reputation will be upheld and his suspension lifted once Oklahoma's appeal on Bledsoe's behalf is heard.
Many of the substances on the banned list appear in prescription drugs, such as stimulants used to treat ADD, and in legal, over-the-counter dietary supplements, such as protein powders.
Compliance departments in athletic departments try to stave off such suspensions by ensuring that student-athletes fill out all the proper paper work when taking prescription medications and by insisting that all dietary supplements are supplied by the athletic department, so as to avoid unknowingly takes a product with one of the substances on the NCAA's banned list.
Bledsoe has appeared in five games for Oklahoma and was listed on the second team on the depth chart for OU's 56-3 victory against the Jayhawks on Saturday night.
The NCAA suspends athletes who violate the policy for one year's worth of games, but has been known to shorten or lift the suspensions if it is clear the athlete didn't knowingly take a banned substance.