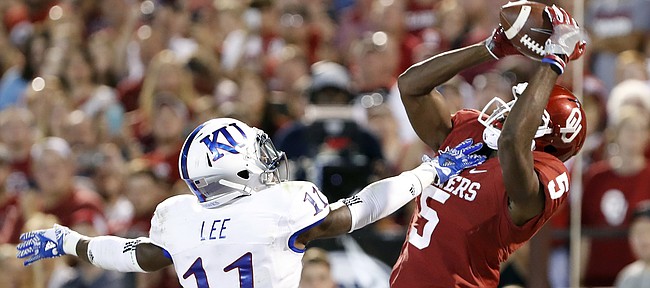 After surrendering a season-high 56 points and scoring a season-low three Saturday night at Oklahoma, the down-and-out Kansas football team's players and coaches couldn't leave Norman, Okla., feeling as if they made any progress.
Doggedly positive second-year head coach David Beaty chose to find the positives in the landslide afterward, repeatedly citing a first quarter during which the Jayhawks (1-7 overall, 0-5 Big 12) picked up six of their 11 first downs.
The Kansas players, meanwhile, described the difficult mental process of dealing with such a defeat shortly after its conclusion.
"You know, it's tough fresh off a loss," senior safety Fish Smithson said Saturday night at OU's Gaylord Family Oklahoma Memorial Stadium. "So of course tonight was really difficult, because guys, we play with a lot of emotion out there and we don't like to lose, so of course, it'll be tough. But tomorrow we've gotta bounce back and watch film and fix the things, the mistakes."
Most of KU's blunders versus the Sooners (6-2, 5-0) came in the second and third quarters, when the OU offense ignited and outscored the visitors, 49-0.
The Kansas offense only managed 121 passing yards — another season low point — in the worst defeat for Beaty's team since a 62-7 home loss to the Sooners a year ago.
"We've gotta let that go," sophomore receiver Steven Sims Jr. said following a five-catch, 35-yard night, "and we've gotta prepare for West Virginia tomorrow. We've gotta start getting ready for them. We can't just linger around on this loss."
Senior cornerback Brandon Stewart echoed Sims' sentiment and described how players at a program such as KU condition themselves for the highs and lows of weekly competition.
"I think it comes with playing football. We're gonna have them games," Stewart said, referring to outings when nothing seems to go right. "We'll have a game where we'll play really well. We were just on the back end of it tonight."
The sports psychology side of coaching has led Beaty, whose team has lost by an average of 29.7 points a game against FBS competition this season, to emphasize the more encouraging aspects of even the least pleasant defeats.
Said sophomore defensive tackle Daniel Wise: "Coach always reminds us, no matter what the score is, no matter how good we think we played or how bad we think we played, coach says there's always good in a game like this. We always try to find the positives to build on, and the bad stuff, we try to fix that and get ready for the next game."
The Jayhawks hit the road again this week to face No. 14 West Virginia (6-1, 3-1). The Big 12 announced Sunday the game will kick off at 6 p.m. and air on ESPN2.