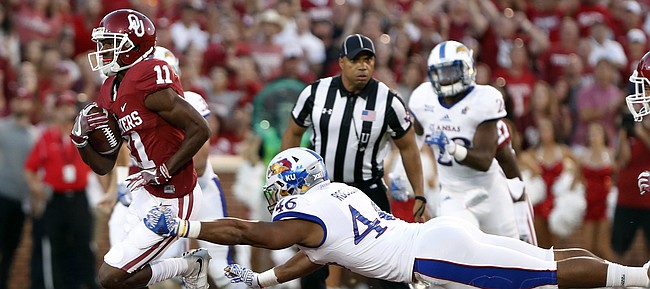 Norman, Okla. — The high-octane, score-at-will Oklahoma football offense lived up to its hype Saturday night at Gaylord Family Oklahoma Memorial Stadium. However, the Sooners' homecoming foe, ever-overmatched Kansas, couldn't expose OU's biggest weakness, its defense.
Oklahoma scored six of its eight touchdowns on offense, while the Jayhawks never crossed the goal line in any way, shape or form, and OU rolled, 56-3, to remain unbeaten in Big 12 play.
While the Sooners' first four conference foes burned them for 40.5 points a game, Kansas junior quarterback Montell Cozart and the offense only ventured into Oklahoma territory on three of KU's 15 possessions and posted just 170 yards of total offense. What's more, on the lone occasion the Jayhawks put together an impressive drive, the visitors settled for a 23-yard Matt Wyman field goal after moving 69 yards.
"They got it going from there," Kansas head coach David Beaty said on one of his several references to the first quarter, when his team only trailed 7-3. "Their guys had a little bit to do with that. Dede Westbrook (OU senior receiver and returner) is fantastic. He's as good as advertised and he's even better when you're looking at him down on that sideline."
Although Kansas (1-7 overall, 0-5 Big 12) only trailed by four entering the second quarter, it didn't take long for one of the conference's powerhouse programs to unleash its dominance. The Sooners (6-2, 5-0) did as they pleased, offensively.
Receiver extraordinaire Westbrook didn't complete a trick-play pass attempt, but roasted KU for a 71-yard punt return touchdown, as well as 105 receiving yards and another TD, plus 24 rushing yards as the 86,301 in attendance watched the scoreboard regularly light up with fresh new numbers under the name Oklahoma throughout the second and third quarters.
Junior OU quarterback Baker Mayfield threw for 236 yards and four touchdowns before sitting out the final quarter-plus. Running back Joe Mixon, who missed some snaps in the first half after suffering a big hit from KU safety Tevin Shaw, returned to the game in time to contribute 74 rushing yards, 35 receiving yards and a touchdown.
"They were really good," Kansas senior cornerback Brandon Stewart said of the Sooners' skill players, "but I also feel like we didn't execute our game plan to the fullest. We came out fast but they beat us when it matters. I wouldn't say they were unstoppable, but they were a really good offense."
The game plan, Stewart explained, called for the Jayhawks winning more individual plays.
"It was just man versus man. Most of the time they beat us one-on-one," Stewart said. "We just didn't win our matchups. And the scoreboard showed it."
Unlike Oklahoma, which put up 267 rushing yards and 271 passing yards, nothing worked for Kansas.
Sixteen of Cozart's 20 completions on the night went for single-digit or negative yardage, leading to a 120-yard outing on 36 pass attempts. The Oklahoma defense even became the first team to sack Cozart this season, pulling it off three times.
And, as tends to be the case for the turnover-prone KU offense (now 27 turnovers lost on the season), its QB gave away some possessions. The Sooners twice picked off Cozart — the most significant coming one play after KU defensive tackle Daniel Wise recovered a fumble forced by safety Mike Lee in the first quarter. Cozart wanted to answer quickly with what had the potential to be a go-ahead touchdown throw in the first quarter. Instead, Jordan Thomas, who abandoned his man, Steven Sims Jr. (five receptions, 35 yards), intercepted an under-thrown ball for tight end Ben Johnson that didn't quite make it to the goal line.
"We was just trying to get things going," Cozart said. "Our first couple of drives we got out to a fast start, you know, a couple of plays that we wish we could have back and it'd be a different ball game."
Kansas punted nine times and only picked up 11 first downs against a Sooners defense that many around Norman had maligned.
Said Beaty: "From our standpoint… I'm not sure we matched up great up front," the second-year coach offered, before adding OU defends the run well (KU running backs Ke'aun Kinner and Taylor Martin combined for 19 carries and 38 yards). "You've got to get to the edge and their edge players made good plays."
Still, KU's touchdown-less, three-point night had to be pretty disappointing considering the numbers OU had allowed of late, right?
"Yeah, I mean…" a frustrated Beaty said before deciding not to elaborate.
The Jayhawks travel next to West Virginia (6-1, 3-1).