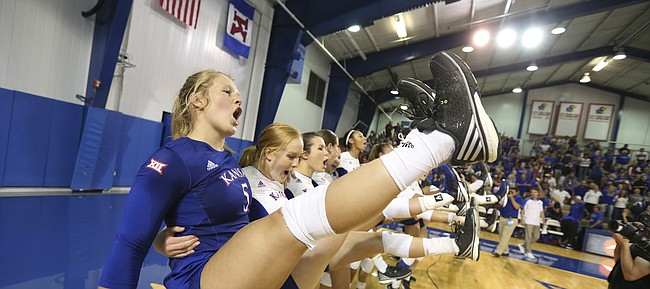 They've filled the bleachers for years now and been treated to nationally-ranked teams competing with the best in the Big 12 and their beloved Jayhawks defeating the Missouri Tigers in postseason play in the cozy confines of Horejsi Family Athletics Center.
But there have not been many nights in that building like Saturday night, when No. 6 Kansas snapped a 25-game losing streak to mighty Texas by knocking off the second-ranked Longhorns in five thrilling sets, 17-25, 25-11, 27-25, 12-25, 15-10.
Photo Gallery
Kansas volleyball v. Texas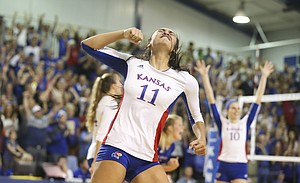 View a gallery of images from the Jayhawks' and Longhorns' match on Saturday at the Horejsi Center.
Asked after the match if they would rather have finally broken through against the Longhorns in Austin, Texas, or in Lawrence, the Jayhawks did not hesitate to shine the love right back on their home fans.
"I love being in front of our home crowd," junior Kelsie Payne said, still smiling from KU's monster win. "It's really cool to be in front of our fans and family and it's really cool that we could do that in Horejsi."
Fellow junior Madison Rigdon said she thought the Horejsi fans played a huge part in Saturday's victory, helping KU "a lot with the energy and excitement." And Kansas coach Ray Bechard, who remained his cool-calm-and-collected self after what is certain to go down as one of the most memorable victories of his stellar coaching career, said he was nearly as happy for those cheering in the bleachers as he was for the Jayhawks in the locker room.
"It was a great evening at Horejsi," Bechard said. "I just think our fans were really, really into it and wanted this about as much as anybody."
No band, no problem
The normally-rocking, always-wild KU volleyball pep band was unable to attend Saturday's match because of a competition elsewhere.
While their absence was noticed by most and felt by many, KU associate athletic director Jim Marchiony said the unfortunate scheduling quirk wound up making the season for several KU volleyball fans.
Instead of leaving the seats in the northwest corner of Horejsi empty, KU sought to fill them. And it did not take long.
"What we did is we reached out to people who wanted to but couldn't get season tickets," Marchiony told the Journal-World.
Asked how quickly those seats were scooped up, Marchiony responded with a laugh and said, "They went fast."
Challenges key
The Kansas and Texas coaches were on the opposite sides of the challenge equation during Saturday's match, with Bechard winning one of the two challenges he requested and Texas coach Jerritt Elliott losing both of his attempts.
Bechard's victory came in the second set to put KU up 8-5 instead of 7-6 and his loss came at 17-14 in the pivotal third set.
Elliott's attempts came at 22-all in the third set and with UT trailing 6-4 in the decisive fifth set.
Each coach is allowed just three challenges per match and, after the victory, Bechard shared his philosophy about when to use them.
"If it appears like there's momentum or like it's gonna create some spacing or get you closer at a key time, you use it," He said. "But if there's something at 22-12, we're not using it."
Old school scoring
During a rally in the fourth set, the buzzer on the scoreboard inadvertently sounded and the power to the scoreboard went out.
The rally, which appeared to be won by Texas, was replayed — with Texas winning the point anyway — and the rest of the match was played with KU officials at the scorer's table using the old-school, color-coded flip system to keep score of the match.
Hoopers in the house
Spotting a few Kansas basketball players at KU volleyball matches is nothing new. But on Saturday night Bill Self's squad was very well represented at Horejsi.
In addition to Self, who sat in the stands with wife Cindy and longtime KU basketball secretary Joanie Stephens, Self was surrounded by a handful of players from his roster, as well.
Devonte' Graham, Sviatoslav Mykhailiuk, Clay Young and Lagerald Vick all were there. On the other side of the court, behind the Kansas bench, Brennan Bechard, KU's director of basketball operations and the son of KU volleyball coach Ray Bechard, sat with his family for the memorable match.