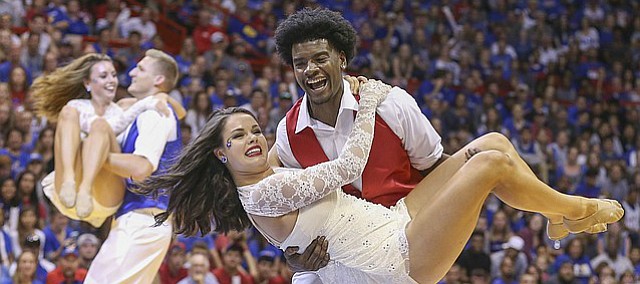 Kansas coach Bill Self may have given his son Tyler a perfect 10 during Saturday's Dancing with the Jayhawks portion of Late Night in the Phog.
But the 16,300 wild and crazy fans who packed Allen Fieldhouse for the 32nd annual season kickoff and voted for the winner via text messages proved that Self was not merely showing favoritism toward his son.
Joined by seniors Landen Lucas and Frank Mason III, Tyler formed Team Extreme, which shimmied and shook with three Rock Chalk Dancers to a song with a salsa vibe and the Dancing with the Jayhawks title.
"I think it's very obvious to everyone in the building that all three of these youngsters come from parents with great rhythm and moves," Self joked.
Photo Gallery
Late Night in the Phog 2016
View a gallery of images from the skits, dances and action during Late Night in the Phog
Podcast episode
After the men's basketball Late Night in the Phog scrimmage ended in a 48-48 tie, KU coach Bill Self spoke to the media about the play from Carlton Bragg, Lagerald Vick and why he thinks this team has a ton of potential.
After the evening's festivities, which featured scrimmages from the men's and women's basketball teams, a performance by Kansas City-based rapper Tech N9ne and all of the energy and excitement that typically comes with Lawrence ushering in another season of Kansas basketball, Self offered more serious thoughts about his 14th Late Night in the Phog.
"I thought it was one of the best ones we've had," he said, tipping his cap to KU's marketing department. "To be real candid, it's hard to keep coming up with something new. I think Josh (Jackson) being here adds to the excitement. I think the students being in school, rather than fall break, adds to it. I think the football team not playing tonight adds to it.
"What they did out there to entertain fans during the day (with the Phog Festival) was really cool. There's not many places that can do it like that."
As for the rest of the Dancing with the Stars spin-off the Jayhawks participated in, Team Fresh, featuring KU freshmen Jackson, Udoka Azubuike and Mitch Lightfoot, along with transfers Evan Maxwell, Malik Newman and Tucker Vang, came in a distant third, with KU assistant coach Norm Roberts saying during the judging, "They were awful. I don't know what Udoka was doing."
The Dream Team of Sviatoslav Mykhailiuk, Devonte' Graham, Lagerald Vick, Carlton Bragg, Dwight Coleby and Clay Young pushed Team Extreme for the title, dancing to a remix version of Marvin Gaye's "My Girl."
After KU assistant Jerrance Howard gave it up to the group for their song selection, fellow assistant Kurtis Townsend pointed out that he spotted KU's "first turnover of the year," which came when Vick nearly dropped one of the Rock Chalk Dancers.
Self on Tech N9ne
As was publicized earlier this week, Tech N9ne performed for 20-30 minutes at Saturday's Late Night, rocking the crowd and the student section at mid-court under a light show that featured crimson and blue lights and yellow strobes.
Asked what they thought about Tech N9ne's performance, the Jayhawks who spoke with the media after the scrimmage had positive things to say.
"I was feeling it," Bragg said.
Added Self when asked if he played a role in getting Tech N9ne to come. "That was marketing, although I will say, I know most of their hits by heart."
He continued: "When we won it in '08, they actually did a short album over our team that won the national championship. So I had that. I remember them coming up to me at Salty Iguana saying, 'Hey, we did this for you.' And I didn't know who they were. It was Tech N9ne. There were about six songs on there that called out players name and stuff like that all throughout the deal. So I've been fans of theirs ever since they did that."
Bill Self for President?
Late Night in an election year would not be complete without KU touting Bill Self for president. And judging from the sound of things when Self's "political ad" popped up on the video board, the KU coach would have had unanimous support from those in attendance Saturday night.
Still, just for good measure, Self went ahead and pointed out a few of the reasons he would make a good president.
He pointed to the foreign policy experience he got with KU's trip to Korea last summer and also pointed out how he had been to the White House after the 2008 NCAA title and his meeting with president Barack Obama on campus in Lawrence.
"I'll let my record speak for itself," Self said.
Bill Self for President, the promotional video uttered. "A winning tradition America can count on."
The video was capped off with the classic line, "I'm Bill Self and I approved this message."
Pregame honorees
Several Jayhawks were honored on the Allen Fieldhouse floor before Saturday's skits, dances and scrimmages, most for academic achievement.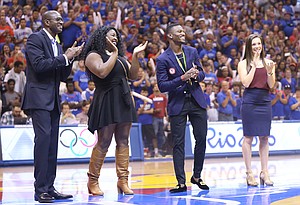 Included among them, however, were three of the four Jayhawks who represented the United States in the Rio Olympics this summer, Andrea Geubelle (triple jump), Daina Levy (hammer throw) and gold medalist Kyle Clemons (4x400 relay).
Successful food drive
KU fans who filled Allen Fieldhouse on Saturday night made sure to bring a little compassion with them.
The food drive conducted at the doors to Allen Fieldhouse raised $1,910 and collected 2,100 pounds of food. All of the money and donations will benefit Just Food, the food bank based in Lawrence and serving Douglas County.
— See what people were saying about Late Night in the Phog during KUsports.com's live coverage.
---
More news and notes from Late Night in the Phog
---