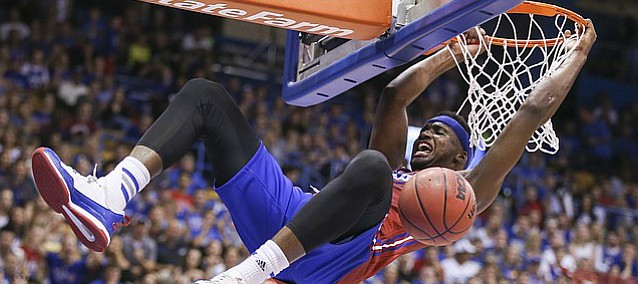 One of the biggest questions about the deep, talented and experienced Kansas basketball team entering the 2016-17 season was whether sophomore forward Carlton Bragg could adequately fill the role and hole left by the departure of Perry Ellis.
Saturday night, in front of a packed house of 16,300 fans at the 32nd annual Late Night in the Phog, Bragg showed that, at least offensively, that should not be that big of a concern.
Starting for the red team that played the blue team to a 48-all tie, Bragg made 8-of-11 shots — most coming from outside the paint — and led all scorers with 18 points in 17 minutes.
"Tonight was pick-up," said KU coach Bill Self, indicating that Bragg has more work to do before he fully fills Ellis' shoes. "But he can shoot the ball. He's obviously gotta get to where he can play as a big man, too. He did fine."
Photo Gallery
Late Night in the Phog 2016
View a gallery of images from the skits, dances and action during Late Night in the Phog
Podcast episode
After the men's basketball Late Night in the Phog scrimmage ended in a 48-48 tie, KU coach Bill Self spoke to the media about the play from Carlton Bragg, Lagerald Vick and why he thinks this team has a ton of potential.
For Bragg, the official beginning of his sophomore season represented "a fresh start." While everyone on this roster who was on last year's 33-5, Elite Eight team looks back fondly on what the 2015-16 team accomplished, it's clear that none of them are living in the past.
The past was a place where Bragg made as much noise for his antics on the bench as he did his performance on the floor and the sophomore big man who added both height and weight to his frame in the offseason said he was eager to do more.
"I wouldn't say it's different," Bragg said. "I've just got a new role. I'm the same person I was last year. I still bring a lot of energy, I just gotta bring it on the court, as well, offensively and defensively."
Asked what excited him most about the opportunity in front of him, Bragg wasted no time in answering.
"Just being able to be on the floor and get a chance to start," he said.
Like Ellis, who showed the ability to hit from three-point range during his senior season, Bragg knocked down a pair of three-pointers in Saturday's scrimmage and also hit a couple of mid-range jumpers. His points in the paint came mostly off of highlight-reel dunks, with junior guard Devonte' Graham flipping a pass off the glass to Bragg for a dunk in transition.
Not to be outdone, sophomore guard Lagerald Vick and senior Frank Mason III teamed up for an even fancier alley-oop on the other end to help the Blue team salvage the come-from-behind tie.
While the final score meant that no one went home with bragging rights — at least not for one day — the Jayhawks said they weren't worried about when the next opportunity would come to get back on top.
"We're gonna keep going at it," Bragg said. "Every day. Every time we step on the court we do."
Podcast episode
Kansas sophomores Carlton Bragg Jr. and Lagerald Vick speak with reporters after standing out in the Late Night scrimmage.
Four Jayhawks finished in double figures and three others came within a basket of reaching double digits during the 20-minute scrimmage that featured a running clock and capped off what Self said was one of the best Late Night's KU has had.
One Jayhawk who came up just shy of reaching double figures was freshman Josh Jackson, who finished with nine points and five rebounds on 4-of-7 shooting. Although Jackson's line was not what many people expected, it looks a little more impressive when pointing out that he did not score his first basket until 5:53 remained in the scrimmage.
"I told Josh in the locker room, I said, 'I don't know how many people would've predicted that (walk-on) Tucker Vang would score a basket at KU before Josh Jackson would," Self joked.
Bragg and Vick said all of the newcomers were nervous throughout the night, including Jackson.
"It just comes with Late Night," Bragg said. "It's part of it."
Mason, Vick and Mississippi State transfer Malik Newman all added 12 points for the Jayhawks, who shot 54 percent from the floor and showed off their fresh-out-of-Boot-Camp conditioning throughout the scrimmage.
KU will take the next three days off — playing pick-up games Monday and Tuesday — before hosting the first actual practice on Wednesday.
Self said 7-foot freshman Udoka Azubuike, who participated in some of the Late Night festivities but did not scrimmage, should be able to return to action by then.
— See what people were saying about Late Night in the Phog during KUsports.com's live coverage.
---
More news and notes from Late Night in the Phog
---