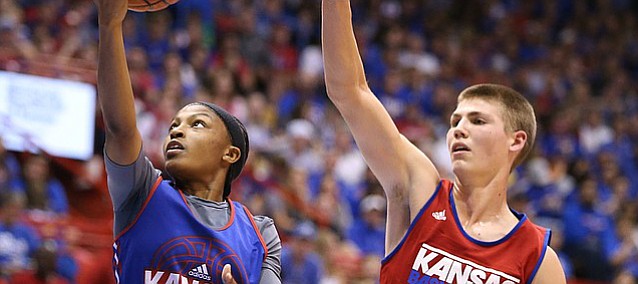 After sitting out all of last season because of the NCAA transfer rule, Kansas women's basketball guards Jessica Washington and McKenzie Calvert were more than happy to step back on the court at Allen Fieldhouse on Saturday.
For Washington, a transfer from North Carolina, it was her first time to play in front of the home crowd.
She didn't participate in the Late Night in the Phog festivities last year because of a hip injury and she made up for lost time in the 12-minute scrimmage against the team's volunteer male practice players.
"It was insane. The crowd got us really hyped up," said Washington, who recorded a team-high six points, three assists and three steals in seven minutes. "I know we've been waiting a long time to finally get out there. We took advantage of the opportunity."
Washington, who started in the backcourt alongside Calvert, helped the Jayhawks to a 34-13 victory over the practice players. KU shot 14-of-24 (58 percent) from the floor.
Before the scrimmage, the Jayhawks performed a dance routine for the crowd of 16,300. Then, former KU standout Tamecka Dixon was honored at mid-court and spoke for a few minutes. Dixon will be inducted into the Kansas Sports Hall of Fame on Sunday in Wichita.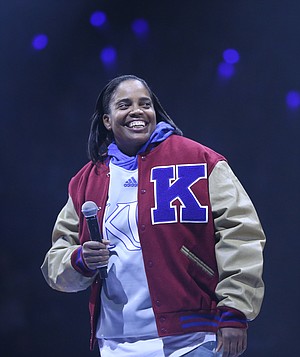 "The whole point of Late Night is to have fun and introduce basketball season," Washington said. "Yeah, it's supposed to be serious, we're supposed to look good and have fun at the same time, but there was a lot going on. It was a lot of fun."
Calvert scored five points on 2-of-5 shooting, adding two rebounds and an assist in seven minutes. The 5-foot-9 transfer from Southern California said sitting out last year helped her learn the strengths of her teammates, which has translated to her play on the court.
"It's a blessing to finally be able to play and getting out there with those girls — and finally not having to just watch," Calvert said.
KU senior guard Timeka O'Neal scored six points with two three-pointers. Sophomore Jayde Christopher and senior Caelynn Manning-Allen added four points apiece.
— See what people were saying about Late Night in the Phog during KUsports.com's live coverage.
---
More news and notes from Late Night in the Phog
---