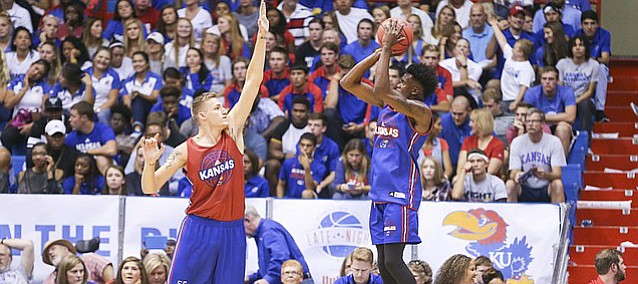 No shortage of talented graduate transfers would have said yes to a scholarship offer from perennial power Kansas, but Bill Self decided not to go that route.
That decision gave sophomore guard Lagerald Vick a shot of confidence and it showed in Saturday night's Late Night in the Phog exhibition.
Frank Mason, Devonte Graham and Josh Jackson project as the three perimeter starter's, Svi Mykhailiuk the first one off the bench, Vick the only other scholarship guard.
Self leaving a scholarship in his pocket means Vick doesn't have to look over his shoulder as much and it will force the coach to allow Vick to play through more mistakes than he otherwise might have.
"I feel totally comfortable with (Vick) and Svi being part of our rotation," Self said after the exhibition that ended in a 48-48 tie. "I could see them averaging above 15 minutes a game."
Photo Gallery
Late Night in the Phog 2016
View a gallery of images from the skits, dances and action during Late Night in the Phog
Podcast episode
Kansas sophomores Carlton Bragg Jr. and Lagerald Vick speak with reporters after standing out in the Late Night scrimmage.
Vick, slender and quick, gets up high on his refined jumper and really high for alley oops. He entertained the crowd with dunks and a pair of three-pointers on his way to a 12-point night. It's what he didn't show as much given the pick-up basketball nature of Late Night that excites Self.
"He didn't have a good night tonight," Self said. "He made a couple of shots, but he didn't play very well. You'll see when we get structure, he could be a great defender, a great anticipator. He and Josh can do some things athletically that nobody else on the perimeter can do because of their length."
Limited almost exclusively to garbage time as a freshman, Vick made 8 of 17 three-pointers. As his volume increases, he doesn't foresee his percentage heading in the other direction.
Assistant coach Kurtis Townsend, the shot doctor on Self's staff, has done nice work with Vick.
"When I came here I could shoot, but Coach T helped me with my form," Vick said. "I used to shoot my elbow out. He told me to keep my elbow in."
Vick said he tries to make 250 of 300 three-point shots every day at the urging of Townsend.
KU's last player from Vick's hometown of Memphis, Tarik Black, played center and was built like a football player. To hear Vick describe what links Memphis players suggests he and Black might have more in common than meets the eye.
"Just like a fighting dog," Vick said, describing what Memphis players are like. "Being so competitive, always having that competitive juice."
Perfect description of Black, who was not drafted after his one season at Kansas but enters his third NBA season in the first year of a two-year, $12.8-million contract.
If Vick does as well maximizing his talent as Black did, he'll have quite a future in basketball.
— See what people were saying about Late Night in the Phog during KUsports.com's live coverage.
---
More news and notes from Late Night in the Phog
---