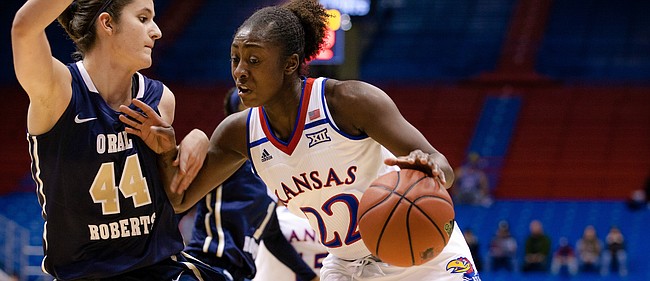 Kylee Kopatich couldn't help but breathe a sigh of relief as she watched the ball drop through the bottom of the net.
Sophomore McKenzie Calvert instantly greeted Kopatich with an emphatic chest bump following Kopatich's first triple, which also served as the final dagger in Kansas' 64-56 double overtime victory over Oral Roberts at Allen Fieldhouse.
"It's about time I made a three," Kopatich said. "Since I was off the entire game until overtime, it felt so good to finally make one. Definitely when it counted."
Leading by three with less than 40 seconds to go in the final overtime period, the Jayhawks (2-2) began to swing the ball around the perimeter, looking for the most opportune time to exploit the Golden Eagles (1-3).
From the left wing, Kopatich chose to enter a pass to junior Chayla Cheadle on the baseline. Cheadle attempted to drive to the hole, but fumbled the ball backwards off the chest of Oral Roberts' sophomore Maria Martianez.
But the ball skipped toward Kopatich, who stood firmly on the wing, feet set and stroked the shot with three seconds left on the shot clock. Her teammates swarmed her, the entire bench went crazy and Kopatich merely flashed a smile from ear-to-ear.
"I'm not really impressed," Calvert said jokingly afterward. "She makes those shots over me in practice. Kylee is a great player and she can hit open shots. I feel like sometimes that can get overshadowed because we don't give her the ball in certain situations."
They certainly gave her the ball in this situation as the triple gave Kansas a 62-56 advantage with 24 seconds to go. The result was all but over.
After going through an offensive lull for much of the game, the Jayhawks scored on four straight possessions including two buckets by Kopatich. In fact, she scored six of her 12 points on the night in the final free period.
"She was having a tough night," coach Brandon Schneider said. "But (she was able) to still have the guts and courage to step up and make two big shots."
But for her biggest shot, it was a bucket that took more than just the 30 seconds that transpired on the game's most crucial play.
Kopatich had spent countless hours in the gym working on her perimeter game this past offseason after shooting a measly 31 percent on 97 shots from beyond the arc in her freshman campaign. All in attempt to do what she did Wednesday night.
"I don't know how many shots I shot this summer to prepare for this moment," Kopatich said. "But it paid off."
And that it did.
But Kopatich's late-game heroics overshadowed an otherwise stellar showing from Calvert. She scored a game-high 21 points to fill the offensive void left by Jessica Washington, who was suspended for one game following her ejection against Memphis.
Early on it appeared the Jayhawks were lost without their double-digit scorer.
Kansas clinged to a 21-19 lead at the intermission despite shooting just 25.9 percent from the floor. Both teams turned the ball over a combined 26 times.
"We are really struggling getting points in the paint right now," Schneider said. "We need to find some ways whether that's adding something offensively or emphasizing some things, to get more points in the paint."
However, the second half wasn't much more favorable on the offensive end for either squad.
Junior Faith Ihim led the way for the Golden Eagles with 18 points including six points in the first overtime period. Meanwhile, no other Jayhawks notched double-digits for the evening.
Still, on a night without one of their best players and a lengthy stretch of poor offensive play, Kansas was able to squeak out a win. A feat that it most certainly wouldn't have been able to accomplish last season.
And that, is what gives them plenty to be thankful for.
"Turkey will taste a lot better after a win," Schneider said.