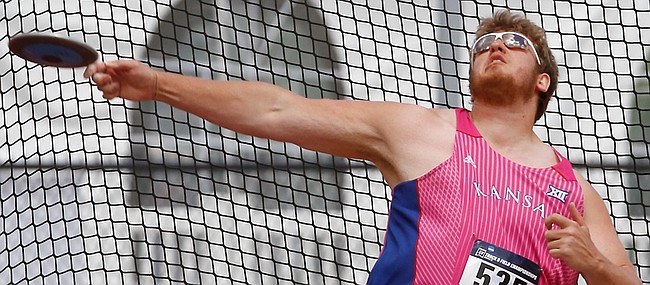 Kansas University's Mitch Cooper certainly solidified his status as one of the best discus throwers in the NCAA during the month of May.
Cooper, a 6-foot-5 junior from Burpengary, Queensland, Australia, followed his May 13 victory at the Big 12 championships with a first-place finish at the NCAA West preliminaries Saturday morning at Rock Chalk Park.
Cooper's heave of 195-0, which came on his third and final attempt (athletes have just three throws at regionals instead of the usual six) bettered his winning mark of 192-0 at league.
"At regional, it's really important just to punch a ticket. Top 12 is the goal," said Cooper, who will be joined at NCAAs (June 8-11, Eugene, Ore.) by teammate Nicolai Ceban, who placed fourth in 192-9. "The most important thing wasn't the distance. I had two bad throws before that (195). I had only one throw to kind of salvage it. I wasn't quite feeling it the first two, but came through," Cooper added.
It's quite important to Cooper — who barely missed qualifying for the finals at NCAA a year ago — to continue his steady ascent in the sport. He entered regional as the NCAA's third-ranked discus thrower and threw to that standard.
Cooper entered the Big 12 meet as the conference's top entrant and left the same way.
"Big 12 … that was a tough week. It was finals week, a bit stressful with schoolwork," Cooper said. "I had to get all that done first. Then we finally got to compete. I think for the meet, on that day it was relief. I went in ranked No. 1. Whenever you are ranked No. 1, it's not tough, but there is expectation. It meant a lot. It was my first real hardware in my collegiate career. It was nice. I kind of proved myself finally. I lived up to my expectations."
He's willing to put in his time with the intent to make a splash internationally at some point.
Cooper is just 2.5 meters shy of Australia's Olympic discus qualifying mark. Trying to make the Games is not keeping him awake at night.
"It's not impossible," Cooper said of qualifying for the 2016 Games. "The plan when I came to college … I was trying to use college as a stepping stone for my throwing career because I want to keep throwing. That's my dream. I have the potential to keep going.
"My future goals … I have the 2018 Commonwealth Games. They are back on the Gold Coast. That's the real goal. The 2019 World Championships, 2020 Olympics. This year I'm close to the Olympic goal. I am not stressed about it and not thinking about it.
"I've improved this year. It's a dream. I'd love to do it. (But) I'm going to focus on throwing at nationals. That's my goal. It's my junior year now. I'm really excited for next year."
Cooper is ecstatic KU's men's team placed second at Big 12 Outdoor, the school's best finish at league since 1983.
"I think we have a great shot at winning the Big 12 next year. I think that will be our goal," Cooper said. "We have a lot of returning athletes, a lot of sophomores, juniors who will take that experience (at league and regional) and build on that."
Cooper, who came to KU from Australia to work with KU throws coach Andy Kokhanovsky — "he understands the athlete, understands the body, doesn't push you too hard but gets the best out of you," Cooper explained — said someday he'd perhaps like to be a teacher for a living back home in Australia.
He also might ultimately play another sport, once he accomplishes all he can in discus.
"I love sport in general and teaching kids," he said. "If I said, 'passion' I'd probably say rugby. I grew up playing rugby. I played since I was 4. That's been part of me. Track is definitely where I'm going now. I did train with the club team (at KU) a few times. I couldn't afford to play. I just couldn't get injured. They are very good guys and I love the sport."
More qualifiers: KU women's discus throwers Dasha Tsema and Daina Levy qualified for nationals by placing 11th and 12th respectively. Both threw 175-5. … KU's 1,600 relay team of Ivan Henry, Jaron Hartley, Tre Daniels and Strymar Livingston qualified by placing seventh in 3:05.11. It's the ninth fastest time in school history. … Zainab Sanni barely missed qualifying in the 200 Saturday. He placed 14th in a personal-best 23.26. He missed qualifying for NCAAs by .04 seconds. On Friday, the junior was .02 seconds shy of advancing in the 100 and finished 14th overall. Also Sharon Lokedi advanced in the 10,000 on Friday.
"For those who are advancing, I'm really happy," said KU coach Stanley Redwine. "We had some of our best performances of the year and that's what it takes in order to get out of a meet like this. I thought our team did OK. There was definitely added pressure because you're at home and I think that's going to be a learning experience for when we host more meets of this size in the future. I'll sum it up: it was a great learning experience for us all."
NCAA West Preliminaries
Saturday at Rock Chalk Park
Kansas results
MEN
4x400 relay — 10. Henry, Hartley, Dainels, Livingston, 3:05.14
Triple jump — 43. Barden Adams, 46-83⁄4.
Discus — 1. Mitch Cooper, 195-0; 4. Cole Ceban, 192-9.
WOMEN
200 — 14. Zainab Sanni, 23.26.
4x100 relay — Valentine, Montgomery, Sanni, Newell, DQ
4x400 relay — 14. Adams, Sanni, Montgomery, Newell, 3:35.99.
Discus — 11. Dasha Tsema, 175-5; 12. Daina Levy, 173-11.
Triple jump — 18. Kelly McKee, 41-81⁄2.