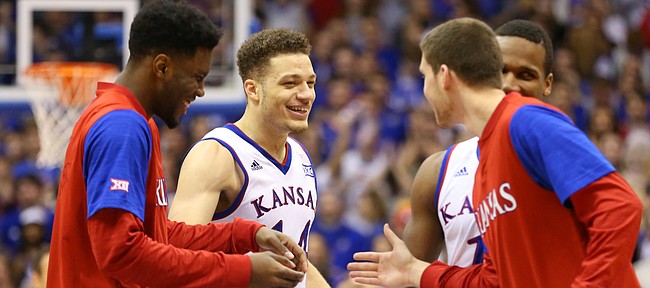 A driver for a ride-sharing service, who lives in Yonkers, N.Y., says he would not be alive today if not for former Kansas University basketball player Brannen Greene.
"He is my hero. He saved my life. When I speak to him I will say, 'Thank you so much. I thank God and thank you,''' said Henry Moran, the Uber driver who, with Greene as a passenger in the back seat, had his vehicle rear-ended on May 21 at Major Deegan Expressway, Bronx, N.Y., and 233rd St.
Moran's car was sent airborne onto a guardrail, back up in the air and down again, where it eventually burst into flames shortly after Greene and Moran exited the totaled car.
"If he doesn't help me I could not have made it out," Moran added in a phone interview with the Journal-World. "He (Greene) was screaming, 'Get out. Get out! Cmon it's on fire. It will be exploding.'
"I couldn't get out. The doors were crushed," Moran added. "He (Greene) was able to get out (after frantically removing his seat belt in a scene explained in a J-W story at the Web address http://bit.ly/1OHcVOt). "I got out because he helped me out from the back. After I got out, we were running together. I heard, 'Boom, boom,''' Moran added of the car igniting in flames.
Driver Moran, whose head and arms were bleeding, was taken to the hospital for observation. He had minor injuries. Greene, a 6-7 junior from Juliette, Ga., who left KU for New York after the 2015-16 season ended to train for the June 23 NBA Draft, received a ride from a police officer back to his condo in White Plains, N.Y. It wasn't until the next day Greene went to the hospital and, like Moran, was deemed free of any broken bones.
"When you are in an accident, you do not know what is going on," Moran said, explaining he was disoriented and unable to force open the front seat doors to exit the vehicle. "It is not like a movie where the people find a way to get out. You close your mind. There was nowhere to run. Nowhere to go. I did not have a stone in my car to break through in case I got in an accident. I did not think that way."
He absolutely was in no condition to escape the car without Greene's assistance.
"Most people, they would get out and run to save themselves," Moran said. "He stayed. I got out because he helped me. If he had done nothing (after impact), we both would be meeting God together."
Moran is convinced Greene will have multiple blessings returned in the future.
"God will help people like him to do whatever he wants (in life)," said Moran, who hails from Dominican Republic and speaks broken English. "People who help people … they will be helped as well."
Accounts of this car accident were reported a week ago in the Journal-World on May 22. Greene's dad, Jeffrey, who relayed news of the incident to the J-W, did not mention Brannen's role in helping Moran ostensibly because he was unsure of specifics and didn't want to appear to be seeking publicity for his son, whose intent in saving Moran was not to receive positive press clippings.
"Most people save a guy in a car and tell the news about it. The only reason you know about this is because I told you about it," Moran told the J-W. "He did not want (praise) for this. People (fans) who love him … they will love him more now."
The police report of the incident has not yet been e-mailed to the J-W or the Greene family.
Brannen, who has worked out for several NBA teams since the accident, does not wish to comment as he focuses on the draft. The J-W has confirmed that Moran was the driver of the vehicle via correspondence between the parties and Uber involving this case.
Needless to say, Jeff Greene is proud of his son.
"To hear that from Henry Moran, somebody I've never met, wouldn't know if I saw him … that doesn't surprise me about Brannen, not at all. That's him. That's his heart," Jeffrey said.
"He's always put others before himself. I'll tell you this little story that would encapsulate that for you. When Brannen was 12, headed to eighth grade we were off to play in a tournament in south Georgia with his school team. Brannen wanted the latest Jordans (shoes) that had come out a week before to wear in that tournament. I thought, 'Well OK. I'll go buy them.' They were $120, $130.
"In the game there was a kid who was getting picked on about the shoes he was wearing. They were past worn out. Brannen came out of the locker room after the game. I asked him, 'Where are your shoes?' He didn't have them. He said, 'There's a kid on the other team who was getting laughed at by the fans, so I gave them to him. He wore my size.'"
"That's Brannen's heart," Jeff added. This story (of Moran) does not surprise me the least bit. That's his heart."
To Henry Moran … he will always have a fond spot in his heart for KU's Greene.
"To me when I saw him in my car, in the back seat, he looked like my son, who plays baseball at Keystone College (Steven, pitcher)," Henry Moran said.
"I am a normal person with a family," he added, noting he has a wife and five children. "He is athletic like my son. I am proud of my son. If I talk to him (Brannen) I will tell him he is like my son."
When driver and passenger talk again or whether they talk again is anybody's guess.
"I don't have his phone number. I don't want to bother him," Henry Moran said. "I owe him. He doesn't owe me. I can tell him thank you through you. You can tell him for me."