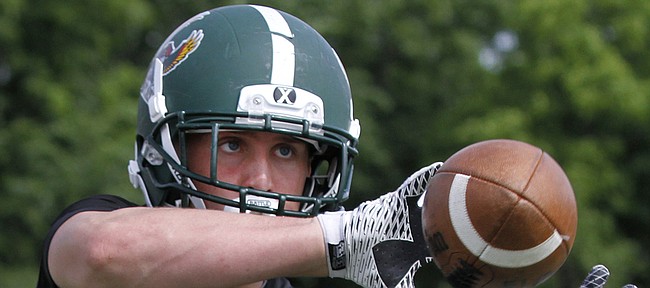 After talking with his parents Monday, Free State High junior Jay Dineen decided he couldn't wait any longer. He knew where he wanted to play college football.
Dineen picked up the phone and called Kansas University football coach David Beaty, giving his oral commitment to the school. His brother, Joe, started for KU at linebacker last season as a sophomore.
"It just felt right," Dineen said. "I just wanted to get it over with and become a Jayhawk."
Dineen announced his commitment on Twitter with a simple tweet, "Rock Chalk," in all capital letters. After talking to Beaty — "He got really excited, then I got really excited," Dineen said — Dineen placed a call to defensive coordinator Clint Bowen, who was his primary recruiter.
A 6-foot-1, 215-pound linebacker, Dineen earned second-team All-Sunflower League honors last season, recording 83 tackles (47 solo) and eight tackles for a loss. He led the Firebirds to an 8-4 record and spot in the Class 6A state semifinals.
Beaty offered Dineen a scholarship on April 11, and Dineen didn't need much time to make up his mind. It was his only offer, but Dineen said he received interest from Kansas State, Iowa State and Northern Illinois.
"I've grown up and loved them," Dineen said of the Jayhawks. "I've gone to every game. I actually went to the Orange Bowl in 2008. Then when Joe committed, I became even more of a fan. Now I'm going to be a part of it."
One of Dineen's dreams is stepping on the field with his older brother. The two suited up for Free State's postseason games in 2013 when Jay Dineen, as a freshman, watched his brother play quarterback and safety for the Firebirds from the sidelines.
Last year, Joe Dineen transformed into one of KU's leaders with 86 tackles and three sacks.
"It'd be awesome if we got out on the field together," Jay Dineen said. "I've always wanted that. He's always wanted that. It'd be fun."
Along with his brother, Dineen has plenty of family ties to the Jayhawks.
Both of his parents are KU grads, and his mother, Jodi, played volleyball for the Jayhawks. His grandfather, Ron Oelschlager, was a running back at KU from 1962-64.
Beyond family, Dineen is excited about the football program's future.
"They are going to change it around," Dineen said, "and I want to be a part of it."