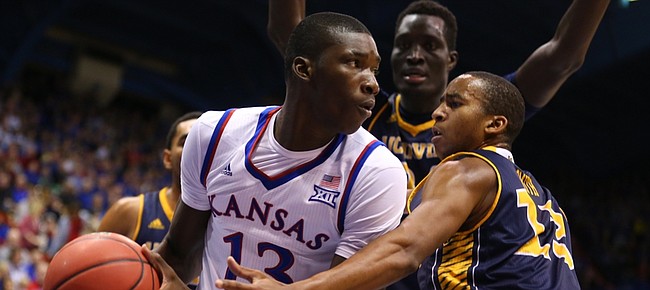 Kansas University freshman Cheick Diallo issued a "thank you" letter in announcing on Twitter on Monday he'd officially decided to sign with an agent and enter the June 23 NBA Draft.
The agent, according to ESPN, is Bill Duffy of BDA Sports Management.
"After spending the last couple of weeks thinking about my future, I took the decision to enter the 2016 NBA Draft and signed with an agent today. It was not an easy call, but (the) time has come for me to take that step up to the next level and make my goal of joining the NBA come true," Diallo wrote.
"Five years ago, I was living in Kayes, Mali, with my family and playing basketball with my friends in the neighborhood. NBA was then a word I would not have dared to pronounce. I would like to thank all the people that have been helping me, showing unconditional love and support since the beginning. Adding to the hard work and determination, they have been helping me to be where I am today:
• My parents and family for the love and support, even being so far away.
• My lovely host family and all the friends I have met since I arrived in the U.S., always having my back.
• My coaches, back in Africa, and here in the USA, that I've met in the different camps and teams that I've played for. In Our Savior New American High School and Kansas University, where I had the opportunity to learn so much about the game. My classmates and teammates.
• All the fans, the ones I have shared some words or smiles with; the ones who sent me great and supportive messages, including during the clearance process #FreeDiallo! :)
"I am a Pioneer and Jayhawk for life," he added in his letter.
"I would also like to give a shoutout to my people in Mali and Africa that encourages me to always give the best. I never forget where I come from. Being Malian, representing my country and Africa is an amazing pride and responsibility. I will always work as hard as I can to make Africa proud.
"My dream of going to the NBA has never been that close. They say everything happens for a reason and you are a big part of it. This is the first step of many more to come and I am looking forward to the new challenges with confidence and determination.
Much love,
Cheick
The 6-foot-9 Diallo, who has a 7-41⁄2 wingspan, appears to have secured a spot in the first round heading into the 1-on-1 workouts with teams. ESPN's Chad Ford has him the 28th pick of the first round.
"Diallo was the big winner at the Combine," Ford wrote. "He measured with a terrific wingspan and a 35-inch vertical, and when he got on the floor he looked like the prospect we once had ranked as a potential top-10 pick. He was active on both ends, rebounded, blocked shots, defended and even showed off a few nice offensive moves. He's still raw. He'll struggle some in a rigid offensive system, but he's the type of guy who clearly looks better now than he showed at Kansas. It's very hard to project his range, but No. 20-40 seems fair. If he keeps playing well at workouts, he has a chance to exceed that range."
KU coach Bill Self told the Journal-World: "We're so happy and proud of him. I believe without hesitation his best play is to remain in the draft. I think he'll be a guy people will look at and say, 'This guy will play in the league a dozen years if he stays healthy.'"
Ellis fares well at Combine: KU senior Perry Ellis' draft stock might be rising as a result of his performance at last week's Combine in Chicago.
"Perry proved he was one of the fastest guys at the Combine," Self said of the 6-foot-8 Wichitan, who recorded the second-fasted three-quarter-court sprint of the 70 players (3.13 seconds). Syracuse senior Michael Gbinije was first in 3.12.
Ellis caught the attention of ESPN.com's Ford, who still lists Ellis' status as "second round pick/undrafted," which could change after Ellis' upcoming individual workouts with NBA teams.
"Kansas' Perry Ellis, another non-athlete by NBA standards, tested surprisingly well, including a 38-inch max vertical and the second-fastest three-quarter court sprint," Ford wrote at ESPN.com.
ESPN has Ellis as the 73rd best prospect heading into the 60-pick draft. Draftexpress.com does not have Ellis being taken. NBAdraft.net has Ellis the final pick of the draft, by Utah at No. 60.
"He plays 5-on-5 over a 2-day period and probably didn't get a chance to fully show what he can do," Self said of a pair of Combine scrimmages. "NBA people have been watching him four years. I don't think that (scrimmages) would have much of an impact at all."
Ellis, who had fourth-lowest body fat of all the players at the Combine (4.6 percent), put up decent numbers, scoring 15 points off 5-of-10 shooting (1-for-1 from three, 4-for-5 from line) with six rebounds, four turnovers and no assists in Friday's scrimmage. He had 11 points off 3-of-10 shooting (1-for-3 from three, 4-for-4 from line) with two steals, one block, four turnovers and one assist in Thursday's initial scrimmage.
He's currently listed as 12th-power forward overall in the draft by nba.com's David Aldridge, who also has Ellis honorable mention on his list of top power forwards.
Greene workout: KU junior guard Brannen Greene has an upcoming workout with the Golden State Warriors, according to the San Francisco Chronicle.