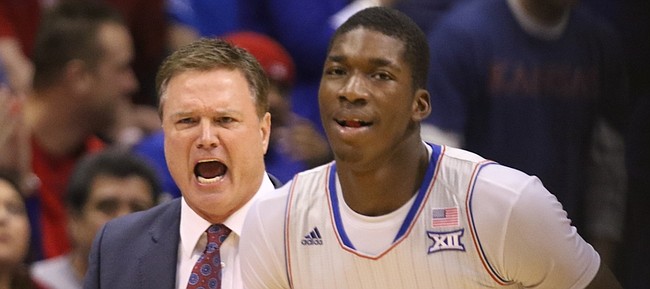 After playing well, measuring well and interviewing well at last week's NBA Combine, Kansas University freshman Cheick Diallo proclaimed to ESPN.com and CBSSports.com reporters he would be signing with an agent and keeping his name in the June 23 draft.
The 6-foot-9 Mali native's decision to turn pro certainly did not surprise Jayhawk coach Bill Self, who has said several times in previous weeks that Diallo almost certainly had played his last game as a Jayhawk.
"Cheick entered this process not committing to sign with an agent, but the reality of it is, if things went well, he would announce this decision in which he would go, and certainly he performed very well at the Combine," Self told the Journal-World on Sunday.
"We're so happy and proud of him. I believe without hesitation his best play is to remain in the draft," Self added of Diallo and his 7-foot, 41⁄2-inch wingspan that impressed NBA officials at the Combine in Chicago.
Draftexpress.com on Sunday in its first post-Combine mock draft moved Diallo from an early-second-round pick to the 25th pick of Round One. CBSsports.com has Diallo the 26th pick of the first round. NBAdraft.net has Diallo 21st overall.
Does Self think Diallo is a first-rounder?
"I think so," Self said Sunday. "More than according to the Combine in which he performed very well, I always thought he was a first-round talent. I do think he's very raw. At the same time, he's gotten so much better since he arrived on campus (last summer). We were just kind of set with our rotation down the stretch (thus cutting his minutes). Those guys (KU's bigs) played at a pretty high level.
"I do believe his best ball is down the road," Self added. "He's one of those guys, when you draft in the NBA, you are not drafting for one or two years, you are drafting for three or four years, possibly more than that. I do think when he grades out three years from now as the equivalent of a college senior, I think he'll be a guy people will look at and say, 'This guy will play in the league a dozen years if he stays healthy.'"
Diallo, who was not declared eligible for participation in games by the NCAA until the sixth game of the 2015-16 season, averaged 3.0 points and 2.5 rebounds for KU with 23 blocked shots. He logged 7.5 minutes per game in 27 contests.
"Cheick started out at a disadvantage this year," Self said. "His attitude was always good. He always worked hard. He was very thankful for the efforts of many that worked hard to clear his eligibility.
"The reality is, he started behind. Once the season starts (and) the players head to league play, you don't slow down. You've got to keep moving. He was behind. The emergence of Landen (Lucas) really put Cheick in a situation he was going to be a guy that was probably not going to play as many minutes as we all thought coming in. He still got better every day. By the end of the season, the guys on our team would tell you he was probably as improved as anybody in our gym."
Zagsblog.com indicated that Diallo is expected to sign with an agent as soon as today. Asked what he showed at the Combine (in scoring 18 points with four blocks in one scrimmage and grabbing nine rebounds in another), Diallo told Zagsblog: "I didn't get to show that much in college because of the NCAA thing but I showed everybody I can run the floor, block shots and protect the rim (at Combine). Even today (Friday), I missed some shots, I got some fouls, but it's not a big deal. I know I can do better."
Svi in 20 and Under Games: KU sophomore guard Sviatoslav Mykhailiuk will be heading back home to Ukraine this week, Self said. Mykhailiuk will be playing in the 20 and Under European Championships (Div. A) July 16-24 in Finland.
This, that: Self said freshmen Josh Jackson, Udoka Azubuike and Mitch Lightfoot will arrive for summer school, "the weekend before the first day of class." Classes begin on Tuesday, June 7. ... Transfer Evan Maxwell told the J-W over the weekend he'd be arriving June 6. Self cannot comment on Maxwell until papers are processed by KU's compliance office. … Derryck Thornton, a 6-2 former Duke point guard, was on Miami's campus for an official visit over the weekend. He has finished his campus visits, now must choose either KU, USC, Washington or Miami. He will sit next season then be eligible as a sophomore in 2017-18. If he attends Miami, he'd lose a year of eligibility because Miami is in the same league as Duke. That is not expected to be a factor in his decision as he's considered an early-entry NBA candidate.