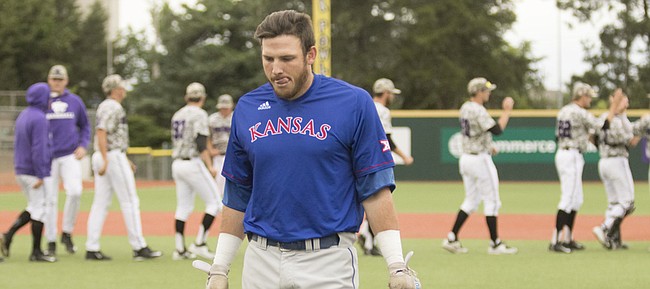 Manhattan — Kansas University senior Colby Wright returned to the Jayhawks' lineup with a bang Sunday, but the second baseman's two-home-run, four-RBI afternoon was not enough, and Kansas dropped the series finale to Kansas State 8-5 at Tointon Family Stadium.
The loss dropped the Jayhawks (20-31-1 overall, 6-14 Big 12) 11⁄2 games behind the Wildcats (26-26, 8-13) for the eighth and final spot in the Big 12 Championship, May 25-29, with three Big 12 games to play.
Left on the bench during the first two games of the series because of back spasms that surfaced Friday — KU won the opener 4-1 and fell in Game 2, 12-2 — Wright was back in the clean-up spot Sunday and uncorked a three-run home run in the top of the first to give Kansas an early lead and later tied the game at 5 in the top of the sixth with a solo shot that came after the Wildcats scored three in the fifth to take a 5-4 lead.
Wright finished the day 2-for-4 with four RBIs, two runs and a walk.
"It was a really impressive performance by him after being out the (first) two days," Price said of Wright. "He could barely walk around on Friday, and he was huge. It was a big-time game, and he has been a big-time player. He played one of his best games ever today."
As has been the case throughout the season, the Jayhawks struggled to take advantage of a great start to a conference series by being outscored 20-7 during the final two games of the Sunflower Showdown.
Wright's early home run and a few strong innings by starter Blake Weiman gave Kansas the early edge and appeared to put the Jayhawks in position to win the rubber match. But KU managed just four hits over the final five innings and gave the Wildcats time to claim control.
A leadoff home run and triple by Kansas State off KU reliever Blake Goldsberry in the bottom of the sixth gave K-State the lead for good, and the Wildcats added an insurance run in the bottom of the eighth to suppress any thoughts of a KU comeback.
"I was proud of the way our guys competed and grinded it out," Price said. "It had the chance of being a great series win, but I tip my cap to K-State. They came up with some big swings late in the game."
The Jayhawks will play Tuesday at Wichita State and then will need some help next weekend to keep their season alive. Trailing both Baylor and Kansas State by a game-and-a-half for eighth in the league, KU will need to win at least two games in its season finale at Oklahoma State and hope that either Baylor (vs. Texas) or Kansas State (vs. TCU) drops a pair or gets swept.
Kansas 301 001 000 — 5 8 2
Kansas State 001 132 01x — 8 10 3
W — Nick Jones, 2-0. L — Blake Goldsberry, 0-7. Sv — Lucas Benenati, 6.
2B — Tyler Wolfe, Quintin Crandall, KSU; 3B: Tyler Ethier, Quintin Crandall, KSU; HR: Colby Wright (2), KU.
KU highlights — Blake Weiman 5 IP, 6 H, 4 ER, 2 K; Stephen Villines 3 IP, 2 H, 1 ER, 3 K; Colby Wright 2-for-4, 2 HR, 2 runs, 4 RBIs; Joe Moroney 1-for-5, 2 runs; Michael Tinsley 1-for-3, run, RBI, SB; Tommy Mirabelli 2-for-3.