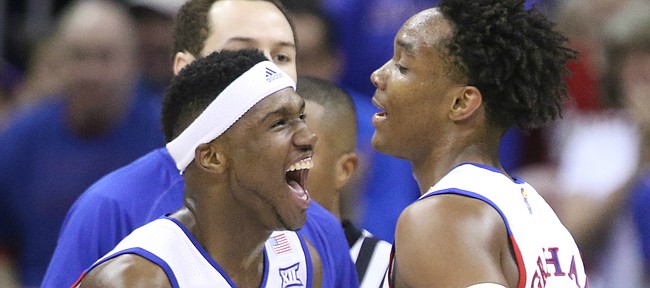 Kansas City, Mo — Nobody who saw Perry Ellis blossom at the Big 12 Tournament three years ago is surprised that he is on the brink of winning tourney Most Outstanding Player honors if Kansas University can take the crown Saturday night at Sprint Center.
Ellis scored 20 points, leading Kansas to a 70-66, fall-from-way-ahead victory Friday night against Baylor, a day after scoring 21 in a blowout victory against Kansas State. 
College basketball wasn't always as easy as Ellis, a McDonald's All-American from Wichita, has made it look lately. For stretches during his freshman season, he looked lost, not unlike current freshman forward Carlton Bragg Jr.
Then the Big 12 Tournament hit in 2013 and Ellis looked like he belonged, averaging 14.3 points and 6.3 rebounds in the three victories. Bragg, whose college career likely will last two or three years and and not four, is having his coming out party on the same Sprint Center floor as Ellis did three years ago.
Photo Gallery
Kansas basketball v. Baylor (Big 12 Tournament)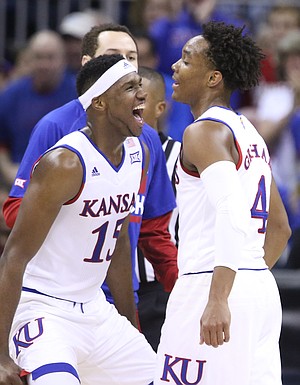 View a gallery of images from the Jayhawks' semifinal game against Baylor on Friday at Sprint Center.
Bragg had just one double-figures scoring output, 10 points at home vs. TCU, during the regular season. Now he has three.
Bragg fouled out in 11 minutes and scored 12 points in Thursday's blowout victory against Kansas State and followed that with 10 points, seven rebounds and four fouls in 10 minutes against Baylor. That's 22 points in 21 minutes. Not bad for a freshman.
Bragg's big back-to-back games made Ellis look back a few years.
Podcast episode
Kansas basketball coach Bill Self, as well as players Devonté Graham and Perry Ellis, answer questions from the media following the Jayhawks' 70-66 win over Baylor in the Big 12 semifinals, in Kansas City, Mo.
"Oh, man, it was great," Ellis said of his first Big 12 postseason. "I remember playing with a lot of confidence. That was probably when I first started playing with a lot of confidence. I remember the crowd cheering my name and it just kind of pushed me forward and made me confident in myself."
All 10 of Bragg's points came in seven second-half minutes.
"I definitely see that with Carlton," Ellis said of the Big 12 tourney growing the freshman's confidence. "He's playing great. He's going to be a great player. He just needs to keep that same attitude."
A McDonald's All-American, Bragg has had trouble cracking the rotation, but coach Bill Self is showing more trust in him, even though his defensive development lags far behind his scoring value.
Self brought Bragg to the podium after the K-State game and joked it might have been the first time he had given that sort of exposure to player who had just finished a game without getting a single rebound.
Even when he's drawing laughs, there is a coaching purpose behind Self's words.
"I took that personally and came in here today and tried to get as many rebounds as possible," said Bragg, who had seven boards. "I was kind of looking at coach, saying, 'Yeah!' Even though he's joking, I still take it personally. When he says stuff, I want to prove him wrong."
Two of his points came when Devonté Graham threw a long-distance lob on the fast break. Graham looks for Bragg in multiple spots on the floor. Bragg made two threes in the Big 12 tourney opener and has a lethal mid-range shot.
"Carlton's always been able to do that," Graham said of scoring at a rapid rate. "He does that in practice a lot. He's had confidence in practice, knocking down shots. We've just been telling him if you're wide open, shoot the ball. Just let it ride. He knocked 'em down and that's a good confidence boost for him."
Bragg said several teammates shared with him tales of their struggles as freshmen, told him to be patient and as the year progressed, told him to look to shoot more in games.
"In practice I was shooting and making it consistently," Bragg said. "Coming into the games, especially coming into this tournament, Jamari told me, 'Let it fly. Just be yourself.' So I did."
It's working out for him and the team. His scoring punch off the bench will come in handy during the tournament.
"I'm having the time of my life," Bragg said. "We're winning. We're playing great basketball and I'm getting a lot of minutes."
Bragg will get more minutes if he can figure out how to defend better, and if guards lending quick hands can mask his deficiencies at that end.
Making it clear he was not singling out Bragg, rather talking about all post players, Graham explained how guards can help.
"We have to start clogging the paint up more," Graham said. "We can't just leave him down there on an island. We can't let the post man take four or five dribbles to a spin move and lay a ball up. Somebody has to come steal the ball from him if he's making all those moves."
Keeping Bragg's scoring punch on the floor will help to motivate the guards to camouflage defensive flaws shared by most freshmen.
— See what people were saying about KU's semifinal victory during KUsports.com's live coverage
---
More news and notes from KU's Big 12 semifinal victory
---
---
---
---