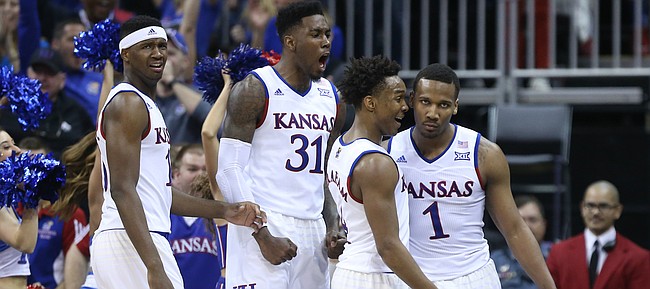 Kansas City, Mo. — ESPN's Holly Rowe walked with post-game interviewee Wayne Selden, Jr., to a TV monitor Friday night and showed the star of Kansas University's 70-66 Big 12 semifinal win over Baylor not only a replay of his vicious dunk in the face of Baylor's Ishmail Wainright, but the wild reaction of Selden's much-beloved uncle, Anthony Pitts, in the Sprint Center stands.
"He's my No. 1 fan in college. I love him, but he's crazy. He's really a kid at heart. He was having fun with it. I'm glad he had the opportunity," Selden said after Uncle Anthony shared the spotlight with his nephew not only on national cable television but with print media members after a victory that pushed KU into Saturday's 5 p.m., final against West Virginia.
"He's been like that since I was a kid. It's great to see him out here watching me play," Selden added.
Selden, who had three of KU's eight dunks, brought Pitts to his feet following an acrobatic baseline slam that gave KU a 33-26 lead with 16:51 to play. 
Photo Gallery
Kansas basketball v. Baylor (Big 12 Tournament)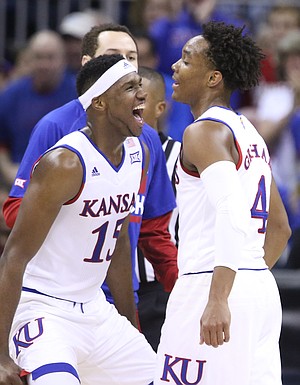 View a gallery of images from the Jayhawks' semifinal game against Baylor on Friday at Sprint Center.
That dunk had everybody buzzing — but the one that made Anthony a  celebrity — came off a drive down the lane with 10:52 left, KU up, 46-33.
Anthony, who wore a huge, red Flavor Flav-like clock around his neck (the clock had a picture of Selden dunking inside it) — ripped the hat off his head and made all sorts of gyrations and faces while celebrating the length-of-the court dunk.
"You already know what I think about it — Whoa!!," Anthony exclaimed. "There was so much emotion I couldn't contain it. He's my guy," Pitts added.
The dunk was so remarkable it had everybody wondering where it ranked on all-time lists.
Podcast episode
Kansas basketball coach Bill Self, as well as players Devonté Graham and Perry Ellis, answer questions from the media following the Jayhawks' 70-66 win over Baylor in the Big 12 semifinals, in Kansas City, Mo.
Anthony, who is from Selden's hometown of Roxbury, Mass., wasn't ready to call it the best he's witnessed from Wayne, who finished the game with 11 points off 5-of-9 shooting with four assists and two turnovers in 31 minutes.
"The first time I saw him throw it down like that, honestly, he was 13. It got thrown off the backboard and I didn't know if he was going to make it. I was like Whoa!! He's been making them like that ever since," Pitts said.
The author of the dunk, Selden, said: "I don't know (where it ranks). In high school  I used to dunk a lot more. At KU I think that could be No. 1."
The man who was dunked on, K.C. native Wainright, complimented Selden on his slam in the handshake line.
"He said something about ESPN or SportsCenter, something like that. That's my guy. It's just basketball. It's nothing deeper," Selden stated.
It may or may not be KU's top dunk of the season. Remember Jamari Traylor had a vicious one on Feb. 29 at Texas.
"I don't really focus in on mine," said Selden, who was stone-faced after Friday's amazing slam. "Jamari's whole elbow was on the rim. I think I'll give it to him."
Traylor, who had six rebounds in 19 minutes against Baylor, chimed in with his opinion.
Podcast episode
KU junior Wayne Selden breaks down his monster slam vs. Baylor in Friday's Big 12 semifinals at Sprint Center in Kansas City, Missouri.
"I'm a little biased. I might go for my own dunk," Traylor said. "Wayne's was an amazing play. I might actually have to give it a tie at least," Traylor added.
Coach Bill Self, whose Jayhawks actually saw a 16-point lead with 1:51 left dip to three points at :05.4 (he had to bring his regulars back in the game for a group of reserves) — acknowledged Selden's dunk was mighty special.
"I've judged a lot of dunk contests. I thought it was great," Self said. "I thought it was an athletic play. Certainly he moreso than anybody else can give us confidence through physical plays and that was one of them. I don't know how I'd rate it, but 'Mari's at Texas and probably this, probably the two best we've had this year."
Traylor, who is Selden's roommate at McCarthy Hall, has met the junior's energetic uncle before.
"His uncle is a pretty funny dude. When he comes see Wayne I see him a lot," Traylor said. "He had that wacky clock on. He wore it around his neck. It's a little badge of honor for him."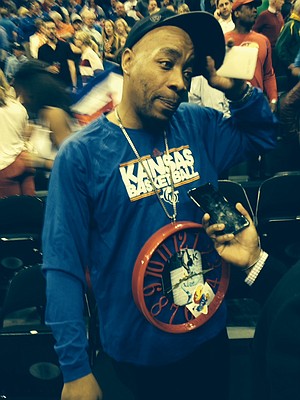 Anthony Pitts explained the history of the clocks he wears for Wayne.
"I used to wear it (Wayne's picture) on jewelry. Every year I'd change the picture," Pitts said. "Now I make one every game so tomorrow it will be different. Usually it lights up. I broke the 'light-up thing.' I can't light it up today. Tomorrow I'll have another one. I might go get a big one with a mirror. I might overdo it tomorrow."
Of the clock, Selden said: "They've gotten bigger and bigger. It's probably his 10th clock by now, I think. Actually every time he comes out here he ends up doing something. Last year he was on the front page of the newspaper. He comes out here and finds a way to make his mark. I'm just excited he's here."
Pitts, Selden said, "has been like a brother to me. He's always been there for me and always will be there for me."
That is the case, Pitts said.
"We have a real tight family. I keep up with Wayne period. It has nothing to do with basketball. I text him every day and say, 'I love you,''' Pitts said.
— See what people were saying about KU's semifinal victory during KUsports.com's live coverage
---
More news and notes from KU's Big 12 semifinal victory
---
---
---
---