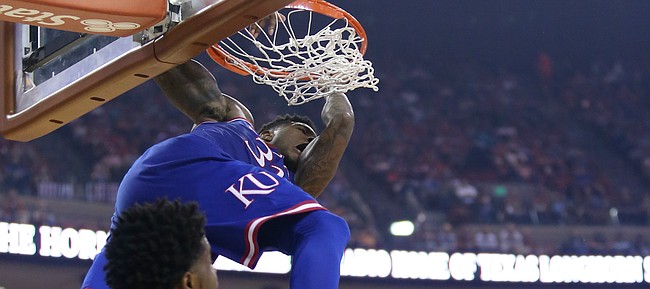 Jamari Traylor's name — and clips of the Kansas University forward's high-flying dunk Monday at Texas — have been all over social media this week.
"My Twitter has been non-stop. You can't get on Twitter without seeing it," Traylor, a 6-foot-8 senior from Chicago, said of the rim-rattler that followed an alley-oop feed from Devonté Graham in the Jayhawks' 86-56 victory.
"My favorite reaction? Carlton (Bragg Jr.) had a good one. My least favorite reaction was coach. I was walking to the sideline. He was, 'Get to the free-throw line, Mari (following a foul on the play). C'mon, it's over with.'
"I was like, 'Can't we have some fun with it?''' Traylor added, smiling, at a Thursday news conference called to discuss today's Senior Day contest (for Traylor, Perry Ellis, Evan Manning, Hunter Mickelson) against Iowa State (3 p.m., Allen).
Suffice it to say, KU coach Bill Self loved the dunk, as well as Traylor's driving one-handed slam against Kansas State on Feb. 20 in Manhattan.
"When you cut your elbow on the rim and need five stitches, that would lead you to believe it was an athletic play," Self said of the Texas jam. "I thought it was unbelievable. The camera angle up top made it look like he was looking down at the rim. It was a pretty special play."
It was engineered by somebody Self considers a very special person. Traylor, who survived a period of homelessness during his high school years in Chicago, has already graduated from KU with a Liberal Arts and Sciences degree despite being deemed a partial qualifier by the NCAA back in 2011.
"Jamari will go down as one of my all-time guys because just to see where he started and where he is now is remarkable," Self said. "He was dealt a hand that most of us will never see, fortunately, and there are multiple hands that would impact any young man, whether it be family crisis, economic situations, being homeless for a period of time — fight, scrap for shelter, for food which at age 15 or 16 that's not something anybody would wish on any kid. To see how he's come and they said he wasn't qualified academically. Well, he graduated in four years, and he's working on post-grad stuff now. There are just so many things that he's done.
"From a basketball standpoint, teaching the young guys, being a great teammate and an energy guy ... He's definitely one of the two or three best leaders on our team."
Traylor, in fact, took control after KU (26-4, 14-3; today's foe ISU is 21-9, 10-7) fell to 4-2 in the Big 12 after a 19-point loss at Oklahoma State. League champion KU is 10-1 since that day.
"In the locker room after that game, I was chewing guys out," Traylor said. (I said) 'If we want to be a serious team we can't have games like that.' I feel we've been taking everything a lot more serious. We've had a couple slip-ups since then but we've been making strides to get better."
Traylor today will welcome his mom, Tracey, who Jamari thanks for her "tough love" growing up, his younger brother, Jamani, and some other relatives to Senior Day.
"I talked to coach. I was like, 'Man I don't know what to say (in postgame speech).' He told me just say what's from the heart. I'm just going to wing it when I go out there," Jamari said.
Traylor could shed a tear when talking about his family and/or Self.
"It means a lot to me," he said of his coach's support the last five years. "I know he loves me off the court. My personality ... I guess it speaks to him because I'm so different. He's like an old dude. He tries to understand me. I feel that's really cool. I've got nothing but love for coach Self."
Everybody would love if Traylor went out with a bang, perhaps concoct another vicious dunk or two that would wind up on ESPN SportsCenter. His last dunk vs Texas was No. 3 on Plays of the Day Monday night, but by Tuesday morning had rocketed to No. 1.
"I mean it's up there. It's cool. I'm just glad somebody saw it. I'll take that, though," he said with a smile.
Davis' swan song: Today also marks the final home game in the broadcasting career of Bob Davis, who has announced plans to retire after this season. Davis has been voice of KU basketball and football for 32 seasons.
"He is excellent, but he's a much better person than he is on the mic, I would guarantee that. To be honored at every place he goes to (this final season), it's been pretty special to see," Self said.
Maker to attend game: Thon Maker, a 7-foot senior forward from Orangeville Prep in Mono, Ontario, today makes an official campus visit to KU. He's also considering Arizona State, St. John's, Notre Dame and UNLV.
This, that: KU has won 32 straight home finales, including 31 straight Senior Days dating to the 1983-84 season. In 2006-07, there were no seniors on the roster. ... KU's seniors are 109-29 overall in four seasons and 60-2 in Allen. ... KU leads the all-time series with ISU, 177-63. The Cyclones have won four of the last five. KU has won 10 in a row over ISU in Allen. Self is 22-7 vs. Iowa State, 21-7 while at KU; Steve Prohm is 1-0 vs. KU, a 85-72 win over Jan. 25 in Ames.
Probable Starters
IOWA STATE (21-9, 10-7)
F — Jameel McKay (6-9, Sr.)
F — Abdel Nader (6-6, Sr.)
F — Georges Niang (6-8, Sr.)
G — Monte Morris (6-3, Jr.)
G — Matt Thomas (6-4, Jr.)
KANSAS (26-4, 14-3)
F — Hunter Mickelson (6-10, Sr.)
F — Perry Ellis (6-8, Sr.)
F — Jamari Traylor (6-8, Sr.)
G — Frank Mason III (5-11, Jr.)
G — Evan Manning (6-3, Sr.)
Tipoff: 3 p.m. today, Allen Fieldhouse
TV: ESPN (WOW! channels 33, 233)
Rosters
IOWA STATE
00 — Simeon Carter, 6-8, 215, Fr., F, Charlotte, N.C.
1 — Jameel McKay, 6-9, 225, Sr., F, Milwaukee.
2 — Abdel Nader, 6-6, 225, Sr., F, Skokie, Ill.
3 — Hallice Cooke, 6-3, 190, Soph., G, Union City, N.J.
4 — Wes Greder, 6-5, 185, Fr., G, Ames, Iowa.
11 — Monté Morris, 6-3, 175, Jr., G, Flint, Mich.
12 — Nick Weiler-Babb, 6-5, 205, Soph., G, Arlington, Texas.
15 — Naz Mitrou-Long, 6-4, 208, Sr., G, Mississauga, Ontario.
21 — Matt Thomas, 6-4, 197, Jr., G, Onalaska, Wis.
23 — Jordan Ashton, 6-4, 195, Jr., G, Mt. Pleasant, Iowa.
24 — Stuart Nezlek, 6-10, 245, Jr., C, River Forest, Ill.
30 — Deonte Burton, 6-4, 250, Jr., G, Milwaukee.
31 — Georges Niang, 6-8, 230, Sr., F, Methuen, Mass.
33 — Brady Ernst, 6-9, 215, Fr., F, Clinton, Iowa.
Head coach: Steve Prohm. Assistants: T.J. Otzelberger, Daniyal Robinson, William Small.
KANSAS
0 — Frank Mason III, 5-11, 185, Jr., G, Petersburg, Virginia.
1 — Wayne Selden Jr., 6-5, 230, Jr., G, Roxbury, Massachusetts.
2 — Lagerald Vick, 6-5, 175, Fr., G, Memphis.
4 — Devonté Graham, 6-2, 175, Soph., G, Raleigh, North Carolina.
5 — Evan Manning, 6-3, 170, Sr., G, Lawrence.
10 — Sviatoslav Mykhailiuk, 6-8, 195, Soph., G, Cherkasy, Ukraine.
11 — Tyler Self, 6-2, 165, Jr., G, Lawrence.
13 — Cheick Diallo, 6-9, 220, Fr., F, Kayes, Mali, Africa.
14 — Brannen Greene, 6-7, 215, Jr., G, Juliette, Georgia.
15 — Carlton Bragg Jr., 6-9, 220, Fr., F, Cleveland.
21 — Clay Young, 6-5, 205, Soph., F, Lansing.
22 — Dwight Coleby, 6-9, 240, Jr., F, Nassau, Bahamas.
31 — Jamari Traylor, 6-8, 220, Sr., F, Chicago.
33 — Landen Lucas, 6-10, 240, Jr., F, Portland, Oregon.
34 — Perry Ellis, 6-8, 225, Sr., F, Wichita.
42 — Hunter Mickelson, 6-10, 245, Sr., F, Jonesboro, Arkansas.
Head coach: Bill Self. Assistants: Kurtis Townsend, Norm Roberts, Jerrance Howard.