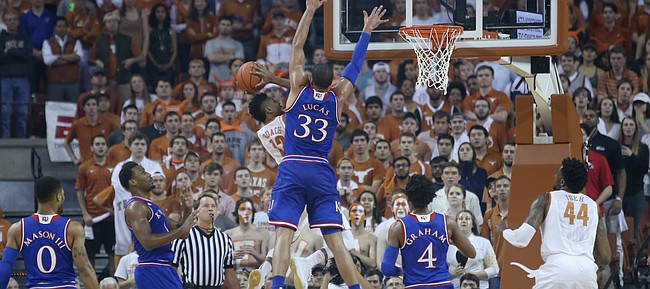 Bill Self has coached too many lock-down one-on-one defenders and above-the-rim intimidators in his time at Kansas University to automatically include his current collection of Jayhawks with the best defensive teams he has put on the floor in his 12-plus seasons at KU.
Still, the more Self sees defensively from the No. 1-ranked Jayhawks, who have defended better as a unit since junior Landen Lucas became a fixture in the starting lineup, the coach can't help appreciating the progress.
When March started feeling closer than ever, KU's players took their defensive efforts to the next level. Kansas, which began its current 10-game winning streak with an overtime victory over Kentucky on the final Saturday of January, went 9-0 in a leap-year February by hounding opponents into poor offensive nights.
Kansas State (.415) and Oklahoma State (.407) barely managed to top 40-percent shooting against KU. In seven other victories, the Jayhawks held their adversaries to 37.7-percent shooting or lower. On the month, KU's competition combined to make only .352 from the floor — and .312 on three-pointers.
Those are the types of numbers Self loves to see. So even with a small sample size, he concedes this group, at least in the past few weeks, is playing comparable defense to his best KU teams.
"I think we guard actions fairly well," Self said of one of the Jayhawks' strengths. "I still think we struggle guarding the ball, which is the hardest thing to guard, and we've had other teams that do that much better. But we've gotten better."
More importantly, Self decisively says this Kansas team is better defensively than either of the past two seasons, when the Jayhawks failed to reach the NCAA Tournament's Sweet 16, suffering upset defeats to Stanford in 2014 and Wichita State a year ago.
KU's upperclassmen core of senior Perry Ellis and juniors Wayne Selden Jr. and Frank Mason III played a part in those early upsets and defensive lapses the past two seasons. Self called those teams "probably the weakest" defensively he has coached at Kansas.
"But here of late, now granted Iowa State can come hang a hundred on us," Self warned of today's opponent for the Allen Fieldhouse finale, "but here of late, we have guarded better than probably for a longer period of time than the last two teams had."
The Jayhawks need to maintain their newly discovered defensive prowess in the weeks ahead to live up to what will surely be a No. 1 NCAA tourney seed and avoid a third straight postseason letdown.
Fifth-year senior Jamari Traylor, a vocal leader who sets the tone for his teammates' efforts both on and off the court, says Kansas finally is showing some fight on defense.
While sitting out his first year at KU, he watched the Jayhawks reach the 2012 national championship game by defending maniacally.
"They were a great defensive team, and I feel like this last month or so we've been pretty much getting after it defensively," Traylor said, correctly guessing foes had only hit about 35 percent of their shots during KU's turnaround. "That's one of the reasons we've been so effective. We've just been locking up and everybody's been focused on scouting report and everybody's just locked in."
Self wants this team to have a great finish, not just a noteworthy February. And he'll be the first to tell you: Playing elite-level defense is the first step in making a return to the Final Four achievable.