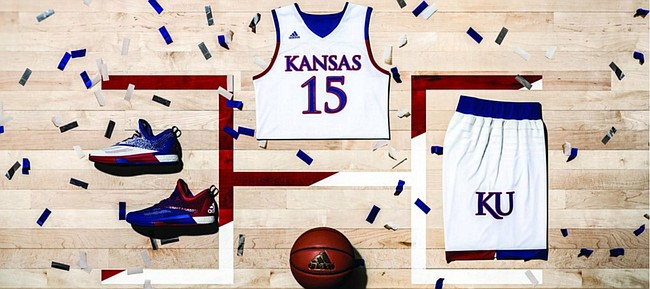 It's March, and in the world of college basketball that mean's "madness" is just around the corner, with the postseason about to get started.
When Kansas University begins its 2016 trek through the Big 12 and NCAA tournaments, the Jayhawks will do so with some new uniforms, unveiled by adidas and KU on Tuesday.
The "Made in March" threads are said to incorporate a sound wave pattern along the waistband of the shorts to pay tribute to famously loud Allen Fieldhouse.
According to a press release from KU, the Jayhawks will also be outfitted in new adidas basketball footwear, including special editions of the Crazylight Boost 2.5 Low and D Lillard 2 in team colors — crimson, blue and white.  
If KU gets a No. 1 seed in the NCAA Tournament, as expected, the Jayhawks figure to wear the home white versions of the uniforms almost exclusively. Kansas, of course, already has wrapped up the top seed for the Big 12 Tournament.