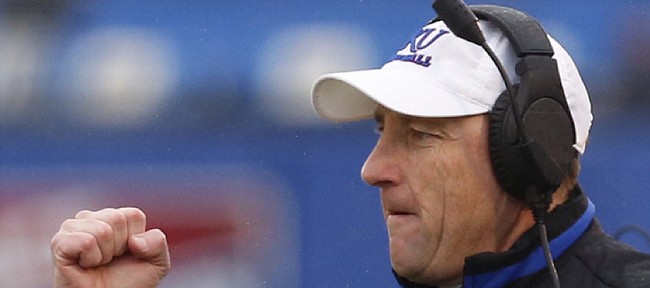 When Warren Easton High senior quarterback Tyriek Starks first heard the news, he had just woken up from a nap brought on by the exhaustion from the ACT exam he took Tuesday evening.
As the future Kansas University quarterback opened his eyes and allowed them to adjust to the light from his phone that filled the room, he realized something big had gone down.
"I had a few missed calls and text messages and people were telling me what happened," Starks told the Journal-World Tuesday night. "I didn't believe 'em at first so I had to go research it myself."
Sure enough, what Starks had been told actually was true. Warren Easton High head coach Tony Hull was joining him in Lawrence, hired Tuesday as the Jayhawks' new running backs coach.
"I was overjoyed," said Starks, who played quarterback for Hull in 2015 before signing with KU in early February. "I ran upstairs and told my mom and she just started jumping up and down. Everybody in New Orleans is real happy for him."
Five days before the start of spring football practice, second-year KU coach David Beaty once again has a full coaching staff.
Hull, 34, replaces Reggie Mitchell, who left KU in February to take a similar position at Arkansas.
He becomes the fifth full-time assistant hired by Beaty this offseason, joining Jason Phillips (wide receivers), Todd Bradford (linebackers), Joe DeForest (special teams) and Michael Slater (defensive line).
A New Orleans native and son of a retired bus driver, Hull emerged as the leader for the job from a list of several candidates and three or four finalists. His strong ties to Louisiana football and passion for coaching young people made him the right fit for the rebuilding program. His addition figures to open up doors for others like Starks to come to the Midwest in the near future.
"He's gonna bring in talent from Louisiana because he's so familiar with the area," Starks said. "Not just from Warren Easton, either. It's the whole state. There's so many talented players throughout all of Louisiana."
Added Hull in a Tuesday night with The New Orleans Advocate: "Over the years, I saw that Louisiana kids didn't really get a shot at that level, and I wanted to be able to provide that opportunity."
Hired by Easton in 2007 after giving up a dream job — and salary — at NASA, Hull returned to coaching because he believed it was his calling. A year earlier, the school that hired the former aerospace engineer was still in the midst of a five-year span without football, a lingering reminder of the devastation done by Hurricane Katrina.
During the next nine years, Hull turned Easton into a formidable program, finishing with a 54-49 record and competing at highest level of the talent-rich state. In 2014, Easton lost to powerhouse Neville, 28-27, in the state championship game. In 2015, Hull and Starks again reached the state semis.
Those accomplishments may not be on par with coaching — and recruiting — at the major Div. I level, but Starks said KU fans should rest easy about Beaty's hiring of the former Louisiana-Lafayette offensive lineman.
"They have nothing to worry about," he said. "He's been in the position of rebuilding a program before. He knows what it takes. And he's a great leader."
Hull will arrive in Lawrence on Thursday and he and the rest of the Jayhawks will kick off the first of 15 spring practices on Sunday. Starks said he was still trying to wrap his mind around the fact that his high school coach was headed to Lawrence before him.
"We already started going over the offense and stuff before he even went up there (to interview)," Starks said. "I have so many favorite parts about him, but I really love the way he prepares — it's like no other coach. He prepares when other people are sleeping. I'm just excited about it and I'm happy for him. He really deserves it."