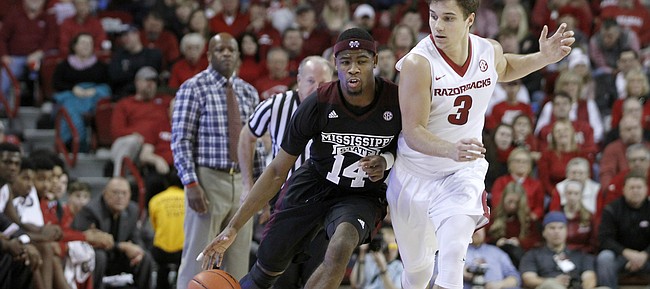 Malik Newman commits to Kansas University out of high school, and the internet breaks, the Mass Street bars sell out of legal beverages, and every baby boy born in Lawrence for the next six months is named Malik.
Newman announces he will transfer to KU after a year at Mississippi State, and fingers tap palms with polite applause.
That's how it works. The unseen is always better than the seen because the imagination takes hold of it and runs faster than Canadian Olympian Ben Johnson on steroids.
The reality: Newman playing one year of games as a red-shirt sophomore does far more for a team than had he been a one-and-done player for the Jayhawks this past season.
He will be two years older. The adjustment period from slower, less skilled, less structured competition to Div. I basketball is behind him.
Highly recruited high school players seldom have a clue how stiff a challenge college basketball presents until they go through it. Newman experienced that playing for a tough coach, Mississippi State's Ben Howland, who once led UCLA to three consecutive Final Four (2006-08) appearances.
Talent evaluators at the NBA combine suggested to Newman he should return to college, and Newman decided that even though it meant sitting out a year, he needed a different coach.
Howland discussed Newman's decision on an ESPN podcast with Andy Katz and Seth Greenberg.
"I think that was really tough because it was never what was expected or projected from him or his dad, so I think they felt like they had to go somewhere else to make that happen," Howland said.
The coach mentioned what a terrific recruiting class he has coming in and didn't sound as if he were going to lose any sleep over being cast in the role of scapegoat for the blurring of Newman's one-and-done vision. Howland expected to have him for one year, recruited based on that expectation, and won't have to face him unless the schools meet in the 2018 NCAA Tournament. His next-up approach to the issue is the only sensible one.
For Kansas, landing both Duke transfer Derryck Thornton, who chose USC, and Newman would have been nice, but the Jayhawks ended up with the better player because Newman is a far better shooter (.379 to .325 on three-pointers).
Howland called Newman's freshman season "solid," a fair word for a guard who averaged 11.3 points, 2.2 assists and 1.9 turnovers per game and made just 1.7 two-point field goals per game while shooting .401 inside the arc.
Solid equates to a nice compliment for a freshman. Kansas has had eight one-and-done freshmen, and statistically Newman had a better season than four of them (Kelly Oubre Jr., Cliff Alexander, Josh Selby and Cheick Diallo), a worse season than four of them (Ben McLemore, Andrew Wiggins, Joel Embiid and Xavier Henry). Kansas would have been happy to have the bottom four after two years of daily practices and one of competition and two years more physical mature than as freshmen.
That, of course, assumes Newman does not bolt for the NBA after a year of practice at Kansas, a very safe assumption. He showed sound judgment in listening to NBA voices that told him he's not ready to enter a weak draft. Even if he improves his skills in practice and matures physically, the only way he can truly upgrade his draft status is by applying those improvements in games. If his intention were to leap to the NBA after next season, the best path for him would have been to make money in Europe for a year and then make himself eligible for the draft.
The move gives head coach Bill Self and his staff a head start on the inevitable annual rebuilding.
A look at prospects for the 2017-18 roster in the event Josh Jackson joins the ranks of one-and-done:
Possible early departures to the NBA: Carlton Bragg Jr., Devonté Graham and Sviatoslav Mykhailiuk.
Sophomores: Udoka Azubuike, Mitch Lightfoot, Newman.
Juniors: Evan Maxwell, Lagerald Vick.
Senior: Dwight Coleby.
If Bragg stays as a junior, Graham and Svi as seniors, that leaves three open scholarships, six if all three leave early. Either way, welcoming Newman adds stability to the future of the program.