One Kansas University track and field athlete has earned a trip to the Rio Olympics, while others still have a chance.
KU senior Daina Levy won the hammer throw at the Jamaican National Championships on Saturday, her second straight Jamaican title. Levy will become the first Jamaican female to compete in the Olympic hammer throw.
Levy, the Jamaican record holder in the hammer and weight throws, threw 61.48 meters (210 feet, 6 inches) to beat the rest of the field by more than 22 feet.
Two other Jayhawks competed in Kingston over the weekend. Junior Strymar Livingston placed third in the 800 meters in a career-best 1:47.93, and freshman Ivan Henry took 28th in the prelims of the 400 in 47.50.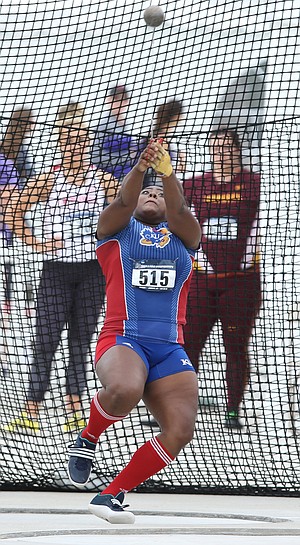 Meanwhile in Eugene, Ore., at the U.S. Olympic Trials, KU product Kyle Clemons advanced to the finals of the 400; Jordan Scott reached the pole-vault finals; and Jessica Maroszek placed eighth in the discus.
Clemons, who ran at KU from 2010-13, finished fourth overall in a career-best time of 44.79. The 400 finals will be held today.
Scott, who vaulted at KU from 2007-11, placed 12th in qualifying with a height of 5.50 meters (18-0). The vault finals are Monday.
And Maroszek, the 2014 Big 12 champion for the Jayhawks, took eighth in the discus at 57.78 meters (189-7).