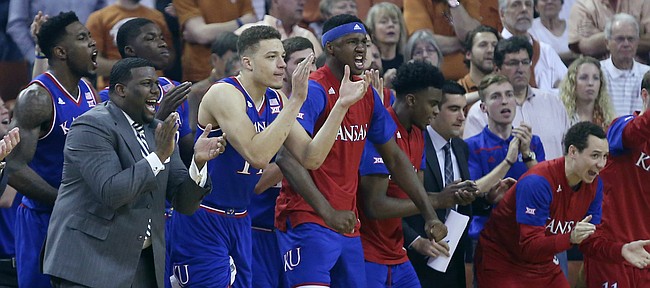 Austin, Texas — Kansas University basketball coach Bill Self conveyed a simple message to his veteran players on the bus ride from the team hotel to Texas' Frank Erwin Center on Monday night.
"Coach told us we don't want to share anything. We want to win it outright so we had to be focused coming down here. He told us to have fun out there (because) there wasn't really any pressure on us," KU senior forward Jamari Traylor said after the (26-4, 14-3) Jayhawks wrapped up the undisputed Big 12 title, courtesy of an 86-56 rout of (19-11, 10-7) Texas.
KU had grabbed a share of the title and clipped the nets in Allen Fieldhouse after Saturday's win over Texas Tech.
"Tonight we were a joyful team," Self said of the Jayhawks, who raced to a 15-0 lead, led by as many as 33 points in the second half and wound up claiming the second biggest Big 12 road victory in the Self era.
Photo Gallery
Kansas basketball v. Texas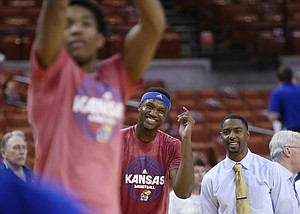 Images from Saturday's game between the Jayhawks and Longhorns at Frank Erwin Center in Austin, Texas.
KU pounded Texas Tech by 35 points in the 2011-12 season in Lubbock.
"We played like a team proud of getting a piece of the Big 12 championship and wanted to validate that to everybody by playing well tonight," Self said.
KU, which won its 12th straight league crown — eight of them undisputed, four in which KU tied with another league squad — also won big on a day the Jayhawks returned to No. 1 in the AP and USA Today polls.
"We were No. 1 before and it lasted all about a week or the next game," Self said of a two-week stint at No. 1 in January. "The guys knew if we didn't play well tonight that would not be the case next week. They were turned up tonight."
Texas, which defeated Oklahoma at home on Saturday, missed its first 14 shots on the school's Senior Night for a whopping six players. KU led, 15-0, 28-9, 32-11, 41-19 and 44-23 in the initial half. Perry Ellis had 15 points the first half and 20 in the game off 9-of-11 shooting. KU hit 64 percent of its shots and went 11 of 16 from three. UT hit 30.2 percent of its shots and was three of 13 from three.
Frank Mason III hit three threes and scored 14 points, while Devonté Graham hit three threes and scored 13.
"That was the motivation," Graham said of winning the league title with one game to play and not sharing it with anybody. "After we celebrated last game, we didn't want to come out flat and think the league was over. We wanted to come out and win it outright."
He explained what's been going on with the team since the end of Saturday's game at 1:30 p.m.
"We didn't do much (except) jumping around in the locker room with coach. We went out to eat as a team (Saturday night)," Graham said. "(Sunday) we practiced 45 minutes, not too long. We went over their stuff, just to get our minds right for today.
"Our coaches do a great job getting us prepared and with scouting report, how to guard their actions. Watching film on Texas and going over their stuff helped us mentally."
Self was pleased with everything but 11 of 24 free throw shooting.
"Tonight we were about as good as we've been all year," Self said. "We were skilled tonight. We made a lot of good basketball plays. We got on the floor and carried out assignments (but) we've not rebounded the ball in two weeks."
Any concerns Self had about perhaps being fat and happy after clinching a tie Saturday, "were alleviated early," Self said. "I was shocked at how much energy we had in a short practice. Today we were really good at shoot-around. It obviously meant something to the guys tonight. They were on point, focused. Perry was unbelievable. Frank was great. Wayne (Selden, Jr., nine points) was solid. Devonté had another really good game. We made the extra pass. When we got open looks we made them. We were fortunate they were not able to knock as many down."
KU will meet Iowa State in a Senior Day contest at 3 p.m., Saturday, in Allen.
— See what people were saying about No. 1-ranked KU's Big Monday game at Texas during KUsports.com's live coverage.
---
More news and notes from KU's dominant victory at Texas
---