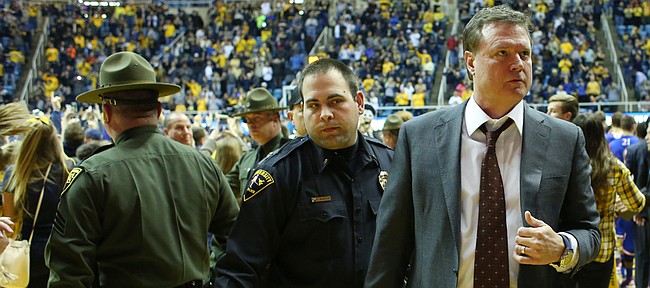 The kiss of death, otherwise known as a top-10 ranking in the Associated Press college basketball poll, smacks louder than ever this week.
No. 1 Villanova and No. 2 Kansas are on a roll, but the next four schools in the rankings (Oklahoma, Iowa, North Carolina and Maryland) have combined for an 0-4 record this week. Plus, No. 10 West Virginia lost to Texas.
The difference between the top 10 and the next 10 feels smaller than ever, which leads to the temptation to believe that the national champion this season could come from a Cinderella school.
Not so fast. A closer look indicates quite the opposite.
Unlike a month ago, when Oklahoma State was blasting Kansas and Duke was losing four times in a five-game span, this is shaping up as the year of the blue blood.
Among Big 12 schools, KU has won six in a row. Oklahoma has lost three of four, West Virginia two of three.
In the SEC, Kentucky has won four in a row, all by double digits, and Texas A&M; recently faded from prominence with a four-game losing streak.
In the Pac-12, Arizona has moved into first place with a six-game winning streak, taking advantage of Oregon's empty two-game trip to the Bay Area.
Michigan State's footsteps, used for stumbling early in the Big Ten schedule, are growing louder by the minute. The Spartans have won six of seven. Heading in the opposite direction, Iowa has lost two of three, Maryland two in a row.
In the ACC, No. 11 Miami, coached by Jim Larranaga (Final Four with George Mason in 2006), is hanging tough with a five-game winning streak. So is No. 7 Virginia, winner of eight of nine. Yet, when the time arrives to fill out brackets, North Carolina and Duke will appear in the Final Four in far more office pools than any other ACC schools. (Don't forget, Louisville self-imposed a ban from this year's tournament, thanks to what has become known as the "friends with impermissible benefits" scandal.)
Anyway, KU's resurgence has started at the defensive end of the floor.
"I'm not going to say we've become good defensively because I don't see it yet," Bill Self said. "I think that we've improved in some areas, but we're up and down, just like we are offensively. There's times that offensively we look like we score easy, and there's times it looks like we can't get a shot. I think it's that way for all teams across America."
Up and down is the perfect way to describe the path most schools take in the national rankings. Lately, though, more blue bloods are heading up than down.