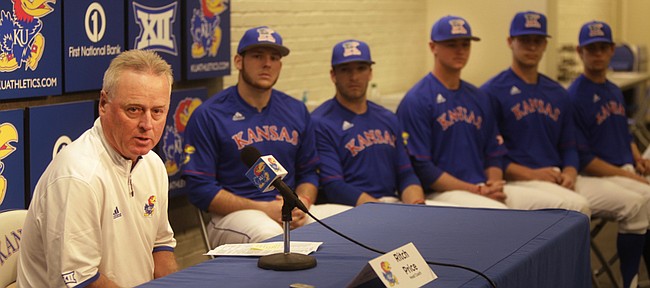 If you bump into Ritch Price and he seems more lively than usual, it's not just the "unheard of" string of warm pre-season weather that has put a smile on the Kansas University baseball coach's face.
As Price heads into year number 14 at KU, he doesn't mind floating the idea that this roster has enough pitching and offensive depth to evolve into something special, a year removed from finishing nine games under .500.
"I feel really good about our rotation. It is the deepest we've been, maybe since I've been here," Price said Wednesday afternoon at KU's media day. "It's definitely the deepest our bullpen's been."
Price's Kansas teams typically have a strong closing presence, and this year is no different, with junior right-handed save specialist Stephen Villines, who saved 13 of KU's 23 victories in 2015. But Price likes the ability of senior right-handed reliever Sam Gilbert out of the bullpen, too and said freshman righty Zack Leban and sophomore lefty Blake Weiman also figure into the Jayhawks' relief plan.
So if staff ace Ben Krauth, the Big 12's Newcomer of the Year a season ago, or another KU starter hits a mid- or late-inning wall, Price and pitching coach Ryan Graves look forward to having plenty of options. The Jayhawks will neither have to ask Villines to do too much, nor keep a starter in too long.
"The strength of our team, other than Ben on Friday night, is our bullpen," Price said. "Our intention is to use our bullpen very similar to what the (Kansas City) Royals have done the last couple of years with great success. You also have to have the right people if you are going to do that. And we think we have guys who can be effective in those roles."
A senior lefty, Krauth went 7-5 in 14 starts last season and struck out 84 in 911⁄3 innings. Price identified sophomore righty Jon Hander (2-1 in six 2015 starts, 3.18 ERA) and newcomer Jackson Goddard as KU's other current starters. The coach went out of his way to hype Goddard, a 6-foot-4 freshman from Tulsa, Okla.
"I think in the 14 years that I've been here, he is the top freshman pitcher that has come onto our campus in my tenure," Price said.
As optimistic as the coach feels about KU's arms, that sentiment carries over to the names he'll pencil in on his lineup card. Price remembers his 2006 team, which won the Big 12 tournament and played in the NCAAs, fondly due to its offensive prowess (.294 batting average, 698 hits, 75 home runs, 398 RBIs in 43-25 season). He thinks the 2016 Jayhawks might be the deepest, one through nine, since.
"We really like our lineup from top to bottom, and last year we struggled at the bottom end of our lineup," Price admitted. "This year, we don't think we have any weaknesses."
While he doesn't expect KU to have as much power as it did a year ago (34 home runs), Price predicted sophomore infielder Owen Taylor could add some pop to the heart of the order, which revolves around senior second baseman Colby Wright, junior catcher Michael Tinsley (2015 All-Big 12 second team) and junior center fielder Joven Afenir.
KU's season begins Saturday at Little Rock.
KU baseball dealing with 'serious' injuries: Price revealed Wednesday the Jayhawks didn't get through their pre-season intra-squad scrimmages unscathed, suffering a pair of "serious" injury blows in recent days.
Junior right-handed pitcher Sean Rackoski, a KU starter in 2015, tripped while turning a double play on Saturday, breaking his thumb in the process. Price said 11 scouts had come to watch Rackoski pitch the day he suffered a season-ending setback.
What's more, sophomore right-hander Brandon Johnson tore a ligament in his elbow Friday and is expected to miss both this season and 2017, because Johnson's recovery will include 15 months of rehab. Price characterized the news as "devastating" to the program.
"We're hopeful with some of the progress our young guys have made, we'll be able to survive the loss of Rackoski," Price said.
Hoglund in February: The first week of KU's schedule took on a different look when athletic director Sheahon Zenger asked Price and other coaches to cancel one road trip as a measure to save the athletics department some costs.
As a result, the Jayhawks open with a single game at Little Rock on Saturday, instead of a planned trip to Florida, then play two home games against Northern Colorado on Feb. 22 and 23.
New cages: Construction is underway along the left-field line at Hoglund Ballpark. Price said a roof and turf is being installed east of the bleachers, revamping KU's batting cages.
"They will have a roof and lights," Price said, "so it will be a great upgrade for us as we develop our hitters."