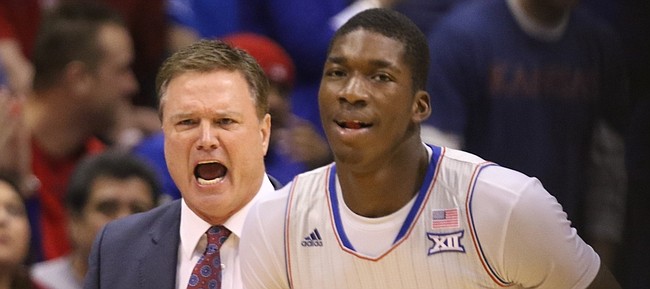 The wildly entertaining dunks of Zach LaVine and Aaron Gordon in Saturday's NBA Slam Dunk contest would likely have been erased from the minds of hoop fans Monday night ... had Cheick Diallo's attempt with 29 seconds left in Kansas University's 94-67 victory over Oklahoma State gone down.
"That's easy to dunk, but I was so excited to make it. I was like, 'Wow,''' Diallo, KU's 6-foot-9 freshman from Mali said of his high flying attempt from the free throw line that crashed off the north Allen Fieldhouse rim.
Diallo, who had five rebounds and three blocked shots in seven productive minutes, explained his thought process on the breakaway dunk try.
"I was thinking, 'I want to pass.' As soon as I stepped to the free throw line, the lane was open. I was like, 'I'm going to keep going,''' Diallo stated. "I said, 'Let me go.' It was too late, but my mind said, 'Go, go, just go,' but it was too late. That's why I missed it," Diallo added.
Diallo, who was 0-for-2 shooting Monday, also contributed to Saturday's 76-72 victory at Oklahoma without scoring a point. He had four boards, a steal and a block in seven minutes versus the Sooners.
"At the beginning of the game, I was so excited because everyone was talking, 'Oklahoma is the No. 1 team in the country.' I was like, 'We are the No. 1 team, too. KU is the No. 1 team, too.' I was, 'OK, we now are going to show who is the No. 1 team in the country,''' Diallo said.
"I did my job, blocking shots, rebounding, running the floor. The first half, I was playing well. The second half I didn't get a chance to play, but we won. That's all that counts," he added.
He has played seven or more minutes in five of the last nine games, including 10 minutes against Kentucky and TCU.
Perhaps the only negative on Monday were his two turnovers.
"Usually I don't turn the ball over. I'm not supposed to turn the ball over," Diallo said. "I don't know how I turned the ball over like that. That's kind of crazy."
Of his blocks, he said: "That's what I do best."
Diallo said he's confident the (22-4, 10-3) Jayhawks, who have won six straight games, will continue their hot streak.
"We lost a couple games at the beginning of the season. We're going to do better. My opinion ... I think we're not going to lose no more games," Diallo said with a smile. "I think we can win no matter what."
He said he's continued his habit of texting his coach, Bill Self, every night.
"I do, every time," Diallo said. "Basically I ask what I need to do most now, because I'm trying to develop my game every day. Even days off, I just come to the gym to work on things. I work every day."
KU in first place: Texas defeated West Virginia on Tuesday night, meaning KU now has sole possession of first place in the Big 12 with five games remaining.
KU is 10-3, followed by the Mountaineers (9-4), Oklahoma (8-4), Texas (8-5), Baylor (8-5), Iowa State (7-6), Texas Tech (5-7), Kansas State (4-9), Oklahoma State (3-10) and TCU (2-11).
"We've got a long ways to go. We've put ourselves in good position. We have to finish the regular season off right," KU junior forward Landen Lucas said after his 14-point, 10-rebound outing versus OSU. "We have to continue to have nights like tonight. Even if a team puts a run on us (like OSU's 17-5 run that cut the lead to six with 11:18 left) we need to put them away and get the win."
Summer trip revisited: KU coach Self on Tuesday night's Hawk Talk was asked if the Jayhawks' trip to South Korea for the World University Games might have taken something out of the squad during its stretch of three losses in five games that preceded the current win streak.
"I can't speak to the exact reason. I will say we have talked about that," Self said. "I think there's a great chance that contributed to us hitting a wall. I don't know if we hit a wall, but we hit a hill. We didn't explode up the hill or move up the hill with probably the same intensity we had before hitting the hill. All teams will go through it. Hopefully we got ours out of the way and we'll push forward playing our best ball and most energetic ball moving forward," added Self, who said he plans on cutting the time of each practice to keep legs fresh.