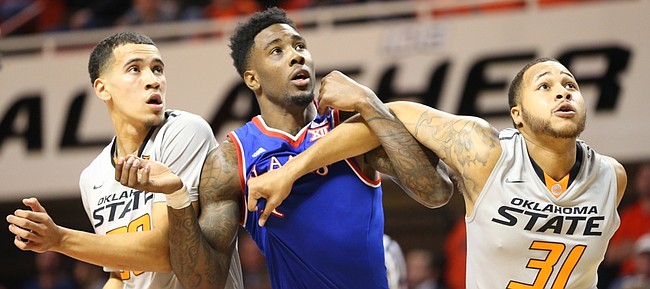 That hybrid sport that blended basketball and rugby known as college basketball is shrinking in the rear-view mirror.
Unlike in past years, when the NCAA attempted to legislate a prettier game by floating word that certain types of contact would be called fouls, the intended change has taken shape.
Scoring is up, from an average of to 67.64 points per game to an average of 73.19 points through Sunday's games. Almost all of that increase has come from the field, not the free-throw line. The number of free throws made per game has increased from 20.16 per game to 21.43.
Attempts in previous years to curtail the sumo wrestling tactics near the hoop followed a disturbing pattern: Word is sent from on high that refs would be enforcing rules they had ignored in the past. The coaches don't believe the changes will stick. So they don't change the way they teach defense all that much. Excessive whistles turn the games into unsightly, choppy free-throw shooting contests. Spectators hold their noses and just as the coaches had suspected, the refs return to calling games as they had in the past. Sumo wrestling — which although ugly still beats incessant stopping and starting to the command of the whistle — returned.
The coaches always won the stare downs.
Somehow, NCAA administrators and game referees effectively communicated to the coaches that this time the refs were not going to blink. This time, they meant business and the coaches believed them. So the coaches taught defense based on changes in the rules or in some cases interpretations of existing rules and the intended result of more freedom of movement for offensive players has been realized. With time, the athletes will do an even better job of breaking old habits, foul calls will decrease, however slightly, and prettier offense, if only by a slight, barely noticeable margin, will result.
Let's hear it for the refs! Hello, is anybody out there? Is this microphone working (tap, tap, tap)? Crickets. That's OK, refs aren't supposed to be noticed and only are mentioned when they make a lousy call. They share that fate with third-base coaches.
The paring of the shot clock from 35 seconds to 30, another positive change, also has had an impact on the scoring rise.
Throw a little credit the way of ESPN's Jay Bilas as well. The E.F. Hutton of the college basketball world, Bilas railed in recent years at the absurdity of the college game surpassing the NBA in terms of physical play under the hoop.