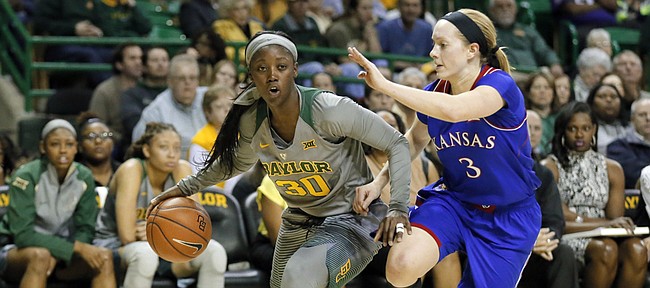 Waco, Texas — Fourth-ranked Baylor won its 10th straight Big 12 women's basketball game Saturday, defeating Kansas University, 81-49.
The Bears (23-1 overall, 10-1 Big 12) scored the game's first eight points and never trailed.
Kylee Kopatich led Kansas (5-18, 0-12) with 14 points, followed by Lauren Aldridge with 12 points and Aisia Robertson with 10.
"I'm, obviously, disappointed in the score of today's game," KU coach Brandon Schneider said, "and the fact that we lost, but I hope that those who watched felt that Kansas continued to fight for 40 minutes. We fought really hard, and I was really proud of them. Baylor's size is a problem for a lot of people. And not just on the inside. Especially for us, when we give up four or five inches on the perimeter, it makes it difficult to really have an effect on the ball. They can go over the top of you to find those post players. But, yes, their size presents a challenge for, I think, everyone in the league."
Baylor, led by Kalani Brown with 18 points, and Beatrice Mompremier with 14 points and 12 rebounds, handed the Jayhawks their 14th straight loss.
The Jayhawks shot just two free throws, making one, while Baylor made 15 of 23. Kansas was called for 23 fouls and Baylor just 10, but Schneider played down the free-throw discrepancy.
"Well, I think it was difficult for us to get the ball in the paint because of their size," Schneider said. "I didn't think the discrepancy was at all because of the officials. They're bigger and athletically superior to us at multiple positions, and I think that causes you to be in a position where you commit fouls."
Kansas trailed 16-7 after one quarter and 36-18 at halftime.
Robertson had five rebounds to go with her 10 points.
"I know that our coaches will show me the film, and we'll continue to grow and get better for the next game," Robertson said.
The Jayhawks will face Kansas State at 7 p.m. Feb. 13 at Bramlage Coliseum.