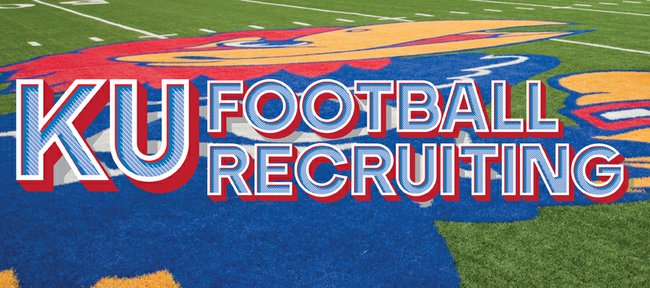 The Kansas University football program appears to have put the finishing touches on its 2015 recruiting class.
KU coach David Beaty and the Jayhawks picked up three more oral commitments over the weekend, bringing the total to 24, which, because of the blue-shirt scholarship given to former wide receiver Nigel King who recently declared for the NFL draft, is the maximum number allowed in this year's class.
Offensive lineman Clyde McCauley, a 6-foot-5, 275-pound offensive tackle from Bowie High in Arlington, Texas, Tyrone Miller, a 6-foot, 178-pound safety from Saline (Michigan) High, and Denzel Feaster, a 6-3, 190-pound safety from Manor (Texas) High all announced their decisions on Twitter this weekend.
KU's newest trio of commitments was in town with eight other athletes this weekend for official visits.
"We talked a lot when we could," Miller told the Journal-World of his bond with the other guys on his visit, which included four players who already had committed to KU. "Mostly, we just talked football and about why we picked KU."
Miller summed up the answer to that question for each player in two words: "Coach Beaty," he said. "I like his vision of the future and I just can't see him as a losing coach."
Each pick-up addresses an area of need for the Jayhawks, who emphasized the secondary and offensive line during the final surge in recruiting this class.
All three of the weekend's pick-ups had previously been committed elsewhere, with Feaster having pledged to Miami (Ohio), McCauley to Fresno State and Miller to Central Michigan.
Feaster's recruitment came late in the plans, but the hard-hitting safety, who switched to defense from quarterback midway through his senior season, told Jon Kirby of Rivals.com that his bond with wide receivers coach Klint Kubiak made KU an easy pick.
"I'm happy I picked Kansas," Feaster told Kirby. "It feels like a great place. Coach Kubiak filled me in on everything when he was recruiting me. He hasn't recruited me that long but I feel like I've known him for five years."
A deeper bond helped land McCauley, the big, athletic offensive lineman who played in the Bowie High program when new KU defensive backs coach Kenny Perry was the head coach there.
In addition to Fresno State, McCauley, who was a first-team all-district left tackle last season, also had offers from Louisiana-Monroe and San Diego State.
The final piece of the puzzle came from a familiar place, as Michigan native and KU running backs coach/recruiting coordinator Reggie Mitchell helped pull Miller out of his home state.
Miller, who called himself "a physical, in-your-face cornerback," first opened some eyes at a camp last summer, when in-state programs Michigan and Michigan State began pursuing him. He lost touch with Michigan when the coaching staff was let go and Michigan State filled up their cornerback spots early.
That left the door open for KU to swoop in late, and Miller said he was very excited about the chance to play Big 12 football.
"All Coach Beaty said he needed was a couple of good classes to get things going again," Miller said. "I've already bought into what he wants to do and I'm looking forward to playing for Kansas and getting started."
None of KU's oral commitments are binding, so nothing will be official until the prospects send their signed letters of intent to the football offices on Wednesday. It sounds like most, if not all, of the athletes currently committed but unsigned are solid with their choices of Kansas and are planning to make things official bright and early Wednesday.
Here's a quick look at the 2015 recruiting class as it stands today:
OL D'Andre Banks – 6-3, 325, 3 stars – signed
DB Bazie Bates – 6-1, 195, 3 stars – signed
DT Jacky Dezir – 6-3, 305, 2 stars – signed
RB Ke'aun Kinner – 5-9, 185, 3 stars – signed
DB M.J. Mathis – 6-2, 205, 3 stars – signed
OL Jayson Rhodes – 6-4, 310, 2 stars – signed
OL Will Smith – 6-4, 315, 3 stars – signed
DB Brandon Stewart – 5-11, 175, 3 stars – signed
DE Dorance Armstrong – 6-4, 220, 3 stars – committed
DB Shola Ayinde – 6-0, 168, 2 stars – committed
WR Jeremiah Booker – 6-3, 187, 2 stars – committed
DB Denzel Feaster – 6-3, 190, 2 stars – committed
OL Aaron Garza – 6-2, 287, 3 stars – committed
WR Chase Harrell – 6-4, 200, 2 stars – committed
RB Taylor Martin – 5-9, 187, 2 stars – committed
OL Clyde McCauley – 6-5, 275, 2 stars – committed
DB Tyrone Miller – 6-0, 178, 2 stars – committed
WR Emmanuel Moore – 6-0, 190, 2 stars – committed
LB Osaze Ogbebor – 6-1, 195, 2 stars – committed
DB Shaquille Richmond – 6-0, 180, 3 stars – committed

WR Steven Sims – 5-10, 165, 2 stars – committed
QB Carter Stanley – 6-2, 188, 2 stars – committed
DE Jace Sternberger – 6-4, 225, 2 stars – committed

QB Ryan Willis – 6-4, 201, 3 stars – committed
All star ratings courtesy of Rivals.com