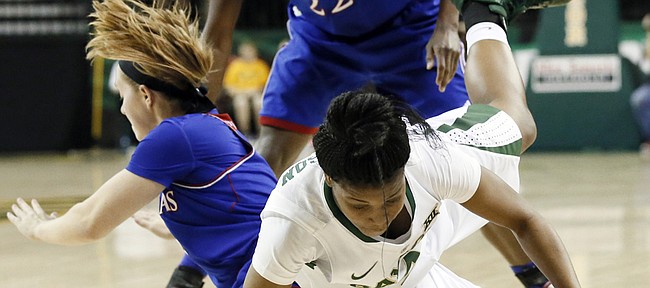 Waco, Texas — Nina Davis and Niya Johnson were right in the middle of the decisive run for No. 3 Baylor.
The undersized post player and dynamic point guard are two big reasons the Lady Bears have won 19 games in a row.
Davis and Johnson combined for all the points in an 11-0 second-half spurt that put Baylor ahead to stay in a 66-58 victory over turnover-plagued Kansas on Sunday.
"We go as those two go, in a lot of respects. Those two have had great years, and when they're playing well, it rubs off on everybody," coach Kim Mulkey said. "They made some big shots and made some big plays when we were on a run there in the second half when they took the lead."
Davis had 22 points, while Johnson scored 13 and added 10 assists to her NCAA-leading total.
After Kansas scored 12 straight early in the second half, a three-point play by Davis with 11:05 left put the Lady Bears (20-1, 9-0 Big 12) ahead and started the spurt.
Davis then had a putback, giving the sophomore 1,000 career points.
"The kid that just shoots and chases it from 6 feet? Impressive. Really, really impressive. And not just today," Kansas coach Bonnie Henrickson said. "It's all just second effort and energy that she plays with off her own misses."
Three layups by Johnson, the first on a bounce pass from Davis, pushed the Lady Bears ahead 52-43.
"It just gives us confidence. Every game is going to give us confidence," Davis said. "We know every game coming up is going to be hard. Everybody is out to get us."
Asia Boyd scored 14 points, while Terriell Bradley had 13 and Lauren Aldridge 12 for Kansas (12-10, 3-6), which had its three-game winning streak snapped.
Kansas had 28 turnovers that led to 32 points for Baylor. The Jayhawks had six turnovers in under two minutes as the Lady Bears started their go-ahead run.
That was after two turnovers in the first 12 seconds of the second half led to two baskets by the Lady Bears, who quickly added to their 32-28 halftime lead.
Baylor was up 41-31 with 16 minutes left before Kansas had a 12-0 run that included a 3-pointer by Boyd and a three-point play by Chelsea Gardner. Two free throws by Aldridge with 11:55 to go gave the Jayhawks their last lead at 43-41.
The Jayhawks didn't score again until Baylor's Khadijiah Cave was called for a blocking foul, and coach Kim Mulkey got a technical for protesting the call. Aldridge and Boyd each made free throws, cutting the deficit to 52-45.
With Mulkey still upset, Davis and Johnson did their best to hold back the coach to avoid a second technical and an automatic ejection.
Johnson said she and Davis told Mulkey, "It's not worth it, Coach."
"Most leadership they've shown all year," Mulkey said. "That's the most they've talked all year."
HOME AGAIN, HOME AGAIN
Baylor has won a national-best 145 consecutive home games against non-ranked opponents since a 64-63 loss to Auburn in the finals of the WNIT on April 4, 2003. ... The Lady Bears have won 14 consecutive home games overall since a loss to West Virginia last season.
KANSAS CLOSE
Baylor has won its nine Big 12 games by an average margin of nearly 18 points. Only three of those games have been decided by fewer than 16. The Lady Bears won 66-62 at West Virginia and now have two eight-point victories over Kansas.
TIP-INS
Kansas: The Jayhawks had won three consecutive Big 12 games.
Baylor: The Lady Bears have won 20 games in a season for the 21st time in the program's history, including all 15 seasons under Mulkey.
UP NEXT
Kansas hosts Texas Tech on Wednesday.
Baylor plays at Oklahoma State on Wednesday.