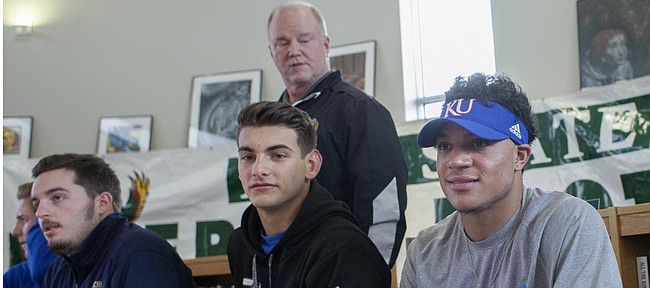 In the months following Bryce Torneden's oral commitment to play football at North Dakota State, one of the Free State High senior's closest teammates, Sam Skwarlo, stayed in his ear about the possibility of playing for their hometown program, Kansas University, instead.
Skwarlo, a running back and linebacker for the Firebirds, hadn't reached a final college decision entering his senior year. As he remained in steady contact with KU, he figured it would be exciting to remain teammates with Torneden, an FSHS quarterback and defensive back, as Jayhawks.
Although both Firebirds first committed to other programs, both ended up signing with Kansas Wednesday afternoon, Torneden on scholarship, and Skwarlo as a walk-on.
"It's definitely great," said Torneden, ranked a two-star safety and ninth-best player in the state by Rivals.com. "We've always been able to push each other. We always one-up each other, so I think that'll push us even more at KU."
The roles of recruiter and recruitee flipped for the teammates last week, after Skwarlo agreed to walk on at rival Kansas State, which made a late push to nab him.
"Obviously, I was trying to influence him as much as I could," Torneden said, "but at the end of the day, it was his decision, and I was gonna support it 100 percent."
Once Skwarlo, who projects as a strong safety, committed to K-State, he said KU head coach David Beaty made a further impression on him. Skwarlo, who grew up dreaming of playing for the Wildcats, ultimately was swayed to don crimson and blue.
"(Beaty) just told me that he thinks I could make an impact here," Skwarlo shared, "and that he wanted to give me an opportunity."
Torneden, who projects as a free safety, became the only in-state recruit in the Class of 2016 to sign a scholarship with KU.
"I think it's definitely special getting a local kid," Torneden said. "I feel like I'm gonna care about this university a lot more."
At Beaty's signing-day news conference, the second-year KU coach said the lack of in-state additions wasn't for a lack of trying on his staff's part.
"Once again, when we came here last year, we talked about earning it, earning it one fan at a time," said Beaty, who brought up the staff's Kansas blast, in which coaches visited high schools throughout the Sunflower State. "We put our foot forward, and we continue to do that."
In the meantime, Skwarlo and Torneden have a chance to prove themselves.
"Kansas kids are good players, too," Skwarlo said. "It means a lot being in your hometown, being able to play for your hometown team."
When Torneden and Skwarlo enroll in classes this summer, they'll join FSHS graduates — and former teammates — Joe Dineen and Keith Loneker Jr., another walk-on, as Jayhawks.
Torneden, who played with Dineen and Loneker as a sophomore in 2013, said those familiar faces should help him and Skwarlo get acclimated, but it was another local man who sold him on KU. Defensive coordinator and Lawrence native Clint Bowen spearheaded Torneden's recruitment, and once Torneden spoke with Beaty, he felt comfortable backing out of his summer 2015 commitment to North Dakota State.
"They're real down-to-earth people," Torneden said of Bowen and Beaty. "It's not every day you get to talk to a head coach, especially at an FBS program."
Eight Firebirds sign letters
Free State High football coach Bob Lisher officially sent eight of his seniors on to the next level Wednesday afternoon at the Firebirds' national signing day ceremony.
Seated in a row in a crowded corner of the FSHS library, Jalen Galloway (Highland Community College), Darian Lewis (Hutchinson CC), Tanner Liba (Butler CC), Logan McKinney (William Jewell), Sam Skwarlo (Kansas University), Garrett Swisher (Highland), Drew Tochtrop (Hutchinson CC) and Bryce Torneden (KU) made their college football choices as coaches, teammates, family members and friends applauded.