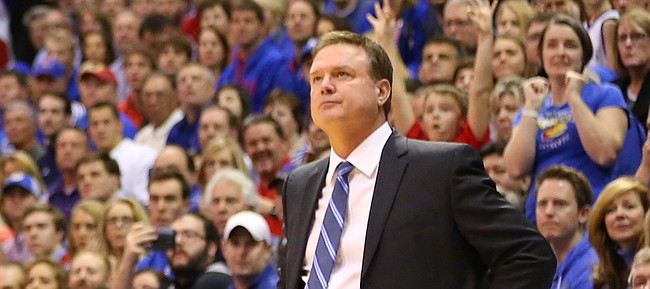 It was difficult to tell the winning coach from the losing one in the wake of Kansas University burying Kansas State again in Allen Fieldhouse, 77-59, Wednesday night.
The losing coach talked about how proud he was of his team and it was easy to see why. The weakened-by-injury Wildcats stormed to an early lead, stormed back from a big deficit, won the effort plays and snagged 36 rebounds, compared to 21 for the home team.
The winning coach started his interaction with the media by apologizing. Again, it was easy to see why, given the Richard move by one of his players at the end of the game. Brannen Greene dunked with one second remaining to expand the team's lead to 18 points and, more importantly, his point total to eight in six minutes.
Photo Gallery
Kansas basketball v. Kansas State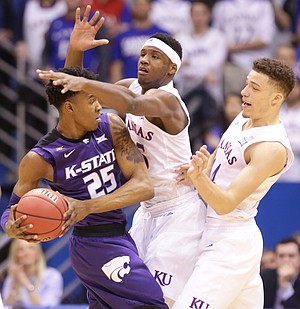 View a gallery of images from Wednesday night's Sunflower Showdown between the Jayhawks and Wildcats at Allen Fieldhouse.
Greene made 3 of 3 shots from the field, his only three-pointer, his only free throw, did not turn it over and quite possibly had the most imperfect perfect game in basketball history.
Kansas coach Bill Self not only called it a Richard move in less formal language on the radio, he also called it "totally classless" by the time he reached the media room.
Greene, remember, so impressed Self with his lip about playing time earlier in the season that the coach suspended him for six games.
Greene's teammates live in the Taj Mahal of the college basketball world, lavish McCarthy Hall. Greene lives in a doghouse that belongs to the coach. Again. It's a shame, too, because the guy has such a beautiful jumper, looked so eager to please in the wake of his suspension, and when Svi Mykhailiuk doesn't play the way he did Wednesday, Greene brings needed scoring punch off the bench.
Greene knows full well what his coach thinks about showing up opponents and rubbing it in. He sees teammates dribble out of the clock game after game. He knows the drill. And even knowing all that, he did what he knew would infuriate his coach anyway. There is no way he thought that would land him more playing time than the six minutes he played in this one, so why did he dunk, essentially posterizing his coach? Self's move now. I wonder if Greene will play Saturday at TCU.
When apologizing for Greene's "act," Self guaranteed it wouldn't happen again, but that doesn't mean he's going to run Greene from the team. His potential — strange word to use for a junior, I know — is too great. He can develop — again, strange word to use for a junior — into a major factor for this team. The hour is getting late for Greene. There must be some way out of the doghouse, but he's the only one who can make it happen.
Podcast episode
Before Kansas basketball coach Bill Self fielded questions from the media after the Jayhawks' win over Kansas State, he apologized to KU's rivals for Brannen Greene's last-second basket in a 77-59 win.
Self's ire was saved for Greene, but his disappointment cast a wider net.
"I thought they outplayed us," Self said. "They beat us to loose balls. They rebounded. We played soft. We had one stretch in the second half, I think we were turned up pretty good."
But too many stale stretches.
"It was amazing to me we were up 10 at half and I felt like it was a tie game," Self said. "Second half, we gave the 10-point lead back. ... It wasn't a well-played game by us. They definitely bullied us on the glass and certainly played much tougher. That's about as soft as I can remember one of our teams playing."
Podcast episode
Kansas basketball players Perry Ellis, Svi Mykhailiuk and Devonté Graham discuss the Jayhawks' Sunflower Showdown victory over rival Kansas State.
Kansas shot .551 from the field, .389 from three-point land, and forced 23 turnovers, so it was far from a total disaster, but it was enough to put the winning coach in a lousy mood.
"Once again our three-man gets no rebounds, doesn't do anything form a physical standpoint to create anything," Self said of junior Wayne Selden, who was coming off a 33-point game in an overtime victory against Kentucky. "Polar opposite of the other day. He'll regroup and do better, but he didn't impact the game in any way, shape or form tonight. He was active defensively maybe for a three-or-four-minute stretch, but didn't guard, didn't rebound, didn't make shots, turned it over, didn't handle pressure. It was a polar-opposite game from the other night."
Playing better opponents in a different building will require more feisty play from the Jayhawks, who nevertheless improved their record to 18-4 overall and 6-3 in the loaded Big 12.
— See what people were saying about the Sunflower Showdown during KUsports.com's live coverage.
---
More news and notes from Kansas vs. Kansas State
---
---
---