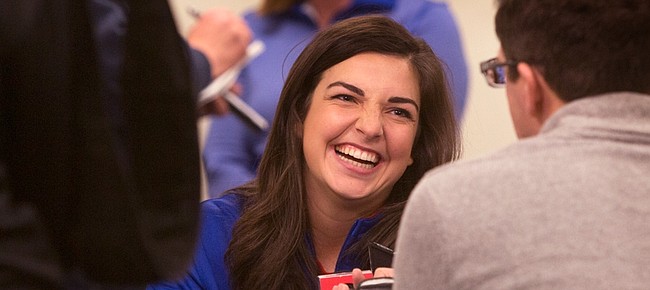 The 15 returning letter winners on the Kansas University softball team do not have to strain too hard to recall the wonderful memories of a 2015 season that resulted in a No. 23 ranking in the RPI poll, a second straight trip to the NCAA Tournament and the first 40-win season in 23 years.
But they are trying to forget.
Meeting Thursday at Rock Chalk Park with the local media for the first time this season — a little more than a week before KU kicks off a 19-game road trip to open 2016 — seventh-year Kansas coach Megan Smith and several of her top players emphasized how they were hoping that last year's string of success would lead to more for this year's squad, which features eight returning starters but also eight new faces.
"I think (last season's performance) is fresh in everyone's minds," Smith said Thursday. "The difference is we have a lot of new players that didn't live that. Obviously, they've seen highlight videos and we talk about our high goals and high expectations, but it's a totally different team now, which is exciting."
A year ago, KU opened with 12 consecutive victories and that stretch elevated the team's confidence to wild heights. While a similar start to this season certainly would be welcomed, a new-look pitching staff and still-developing chemistry, with a couple of new faces in new places, has the Jayhawks simply hoping to improve with every game.
"We've taken steps forward every single year," Smith said. "Last year we were in a regional final and this year we'd love to win that regional final. I think that's our goal no matter who we've lost or who we have, and we're going to work towards that. I think that our veteran players really believe that we can do that. We were close last year. I think that with the influx of new, very talented players we're going to keep that as our goal and hope that it happens."
All expectations aside, senior infielder Chaley Brickey said one thing about this year's team had already long been established.
"I've never seen our team as close as this season," she said. "Our season starts next week, and I've never seen our team this excited before."
Last season, Brickey was a big part of a Kansas defense that ranked 11th nationally in fielding percentage, and the hope is that KU's veterans, along with the team's fondness for the long ball — sophomore Daniella Chavez is back after a 16-home run freshman season and six different Jayhawks recorded grand slams a year ago — will help ease the team's young pitching staff into the season.
"Pitching is definitely going to be different," Smith said. "When you have someone like (former ace) Alicia Pille for four years, you know what you're getting. She had an awesome career here. It is exciting to see what will happen with these new girls. I had the same thing happen four years ago, when Pille was a freshman and now we're going to do the same thing with (Blue Springs, Mo. Freshman) Alexis Reid and see what she does. We're really excited about her talent, effort and energy, and we're excited to see what she can do."
Reid, too, is excited about the challenge ahead.
"It just makes me feel like, 'Oh my gosh, it's here, this is real,'" said Reid, who figures to share innings with experienced junior Sophia Templin. "I've been waiting four or five years to finally get to this place and I think it's really exciting. It's great to finally start off this season."
KU, which was voted fourth in the preseason Big 12 coaches poll, will open 2016 a week from today against North Carolina State at the Jacksonville Tournament.
The Jayhawks' home opener is slated for March 11 and KU will play 24 home games in 2016, while squaring off against a total of six opponents that appeared in the 2015 NCAA Tournament.