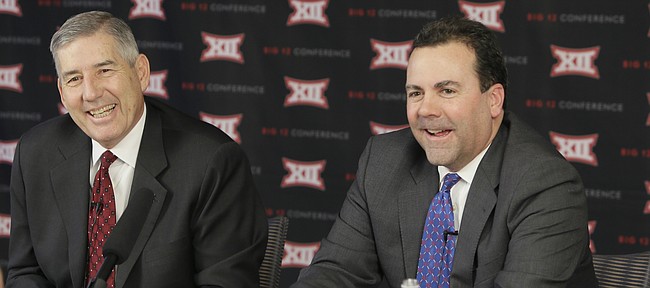 The Big 12 athletic directors gathered on Thursday near Dallas for one of their regularly scheduled meetings and, in reaction to a recent ruling by the NCAA giving the Big 12 a shot at having a conference championship game in football with just 10 members, discussed the conference's options moving forward.
Kansas University athletic director Sheahon Zenger, who is taking his turn as the chair of the Big 12 ADs, joined Big 12 commissioner Bob Bowlsby in speaking with the media following the meetings, and both presented a picture of a conference still exploring its options but not ready to make major changes.
"We reviewed a typical agenda, where we have other broader issues, and (the talks) were very philosophical in nature, no votes were taken," Zenger said. "As usual, our room is a very cohesive room, a good group of individuals and, with Bob's leadership and other conference leadership, I feel very comfortable that, over the next few months, we'll continue to collect data and review it."
Two of the biggest issues the Big 12 continues to be tied to include the idea of adding a conference championship game for football and the possibility of expansion beyond 10 members.
Both Zenger and Bowlsby held their comments close to the vest and it does not appear that anything is imminent in either area.
"We've asked (all of our) consultants to provide data by May," Bowlsby said. "We have firms looking at adding members with and without a conference title game, as well as remaining at 10 members, with and without a title game.
"We know what our options are now regarding a postseason contest. We have a clear picture after two years of the (College Football Playoff) and those were benchmarks and pieces of information that we needed to get before we moved too far down the path. We also have determined that you can get into the CFP with a regular season conference loss and without having a championship game. I would say we're right on schedule looking at the various components of our conference (and will) continue to look for opportunities. I feel pretty good about where we're at right now but we have a long ways to go to have conclusive outcomes on all of the various components."
Added Zenger: "Our ADs have always said that we enjoy our group of 10 (and) the round-robin (schedule) that we play. That doesn't mean you don't consider new options moving forward.... I'm open to thoughtful discussion about anything, but enjoy what we have right now."
The presidents and chancellors of the Big 12's member institutions will meet today, when they, too, will no doubt at least address some of these same topics.