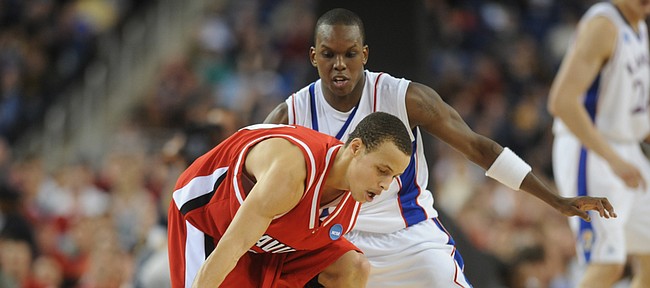 Kansas men's basketball coach Bill Self is more of a look-forward type of person than he is one who spends time reflecting on the past.
But, with Davidson and Kansas facing off at 6 p.m. Saturday at Sprint Center in Kansas City, Missouri, and Self's tie to the Wildcats (5-3) representing a special time in his career, the Kansas coach was asked to take a trip down memory lane earlier this week during a break in preparation for the Jayhawks' first game in a week.
"I didn't realize that Kansas and Davidson have only played twice ever," Self said. "I did not know that until I read the game notes. We had one entertaining game. The other one stunk."
That stinker came back in 2011, in the very building the two will be playing in tonight at this very time of the season. That fact was not lost on Self.
"It's pretty eerie in that it's the exact same time of year," he said. "Kansas City. It's going to be ridiculously cold and we go west the next game because I think last time we went to USC right before Christmas, and this time we're going to Vegas (Dec. 22). So there are some similarities going back to that 2011 game."
Of course, the similarities Self would prefer to see are to the game that came a few years earlier and paved the way for his first appearance in the Final Four and, eventually, a national title.
Self remembers plenty from that 59-57 win over Davidson in the Elite Eight in Detroit in 2008, from the players who made it happen and the game's big moments to the joy and relief he felt after it was over.
But the one thing that comes to mind first is the same every time the game comes up.
"I'm just glad that Steph didn't take the last shot," said Self of Davidson star and future NBA MVP Steph Curry, who scored 25 points in that loss but needed 25 shots to get there.
With the Jayhawks' leading by two and just 16 seconds remaining, Curry brought the ball up the floor with a chance to win or tie, but never found room to take a shot because of the Jayhawks' suffocating defense.
Curry teammate Jason Richards got the chance to be the hero in his place, but his shot from well beyond the three-point line missed wide and sparked the Kansas celebration.
Although Self knew that day how talented Curry was, he admitted this week that he had no idea just how good the current Golden State Warrior would become.
"No. No. No," said Self, shaking his head. "I obviously thought he was good. He (was) by far the best player in the tournament that year. And that tournament was loaded. You look at the players in the Final Four, whether it be (Memphis' Derrick) Rose or (UCLA's Russell) Westbrook, Kevin Love, or Luc Mbah a Moute, all of our guys then (North Carolina's) Ty Lawson, (Tyler) Hansbrough, (Wayne) Ellington, (Danny) Green. You think of all those guys that played in that Final Four, and Steph Curry was by far the best player in the tournament.
"We were fortunate that we did a pretty good job on him. I'm not sure we did a great job. I think maybe he just missed shots, because he could get a shot any time he wanted to."
There are no Steph Currys on this Davidson roster, but that does not mean the Wildcats (5-3) are devoid of talent. In fact, one of their top players is 6-foot guard Jack Gibbs, who enters the game averaging 23 points per outing.
"He's a strong guard, he can get his own shot," said Self, breaking down Gibbs' game. "They know how to play. He'll pass and immediately they'll set some screens for him and get the shot off the catch a little bit. It will be a big challenge for Frank (Mason III) and Devonte' (Graham) to try to keep him under his average."