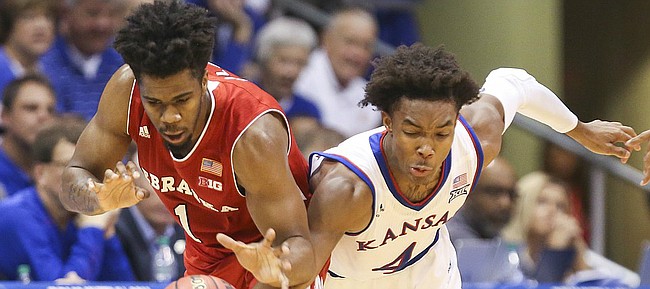 No. 3 Kansas Jayhawks (9-1) vs. Davidson Wildcats (5-3)
Time: 6 p.m. | Location: Sprint Center, Kansas City, Mo.
TV: ESPN2 | Radio: IMG Jayhawk Radio Network
Log on to KUsports.com for our live game blog coverage and follow the KUsports.com staff on Twitter: @KUSports @mctait @TomKeeganLJW @bentonasmith & @nightengalejr
Keys for Kansas
1. Play smart and sound
Much in the way that Kansas is known for taking on the personality of head coach Bill Self and being an extension of him on the floor, the Wildcats work the same way with longtime coach Bob McKillop.
"If you just look in coaching circles, he's one of the most respected coaches there is in the country, hands down," Self said this week. "He's obviously sharp. He looks like a million dollars. He looks like Carey Grant or something there on the sideline. But he gets those guys to play so tough, and they execute and they're sound. There's very few out there respected as much as him."
During his 28-year Davidson career, McKillop has averaged 19 wins per season while leading the Wildcats to eight NCAA Tournament appearances and one Elite Eight berth and racking up several conference and national coach of the year honors in the process.
Self's respect for McKillop and the way he runs his program is obvious, and there's no doubt that the Wildcats have the Jayhawks' full attention heading into this match-up.
2. Defense must show up
Averaging 87.9 points per game through the first 10 games of the 2016-17, the Jayhawks have been carried at times by their explosive offense.
But in order to come out on the right side of things in their Sprint Center match-up with Davidson, the Jayhawks are going to have to turn things up a notch defensively.
Although the Kansas defense has been good this season, creating havoc with their length and athleticism, limiting opponents to 39 percent shooting from the floor and out-rebounding them by an average of seven boards a game, Self said the Jayhawks will face one of their toughest challenges to date in the combination of Davidson guard Jack Gibbs and Wildcats big man Peyton Aldridge. Together, that duo is averaging 44.3 points per game — more than half of Davidson's per-game total — and scoring in all three facets of the game — in the paint, behind the arc and at the free throw line.
"They combine to have the second highest scoring combo in the country," Self said. "I don't know if people understand that. They can score the ball. So that will be a challenge."
3. Bring your own energy
It's going to be cold, it's a week before Christmas and it will be played in a venue that, historically, has lacked energy and fostered a bit of a dull environment during many KU games played at Sprint Center.
Because of all of those factors, along with the fact that Davdison is a capable team that already has faced Clemson, Missouri, Arizona State and North Carolina, the Jayhawks are going to have to manufacture their own juice to both get themselves up for this one and to bring the Sprint Center crowd alive.
Davidson has been off for 10 days — last falling at No. 5 North Carolina, 83-74, on Dec. 7 — and will no doubt be fresh and fired up for another shot at a signature win.
"The intensity in practice is probably backed off a little bit during this week," Self said, noting that finals were priority No. 1. "We were off Sunday. We were going to practice Monday and Tuesday and be off Wednesday, and Tuesday's practice was so lackadaisical, we came in and practiced 45 minutes on Wednesday."
After averaging one game every 3.3 days during the first month and a half of the season, the Jayhawks' week off likely has them a little stir crazy and ready to get back on the floor. That alone should bring the necessary energy to be up for a quality opponent.
Mega Matchup
Davidson forward Peyton Aldridge vs. KU's big men
At 6-foot-8, 225 pounds, Davidson junior Peyton Aldridge does not look like the kind of player that would give opposing big men fits. But that's only when you're talking about inside the paint. Although he can score around the rim and enters the match-up with Kansas averaging 20 points per game, Aldridge has done a fair amount of his damage this season from behind the 3-point line, where he is shooting 35 percent on 43 attempts. Add to that the fact that 6-foot-11 center Will Magarity also has been known to let it fly from behind the arc (6-of-26 on the season) and it's easy to see that KU's big men, whoever they may be and however much they may play, will have to repspect the outside shooting ability of Davidson's bigs as much as they will have to control them in the paint.
Jayhawk Pulse
With finals behind them and the legal issues surrounding sophomore forward Carlton Bragg Jr., now a thing of the past, the Jayhawks are prepared to move forward with a clear mind and an even clearer objective.
With two games remaining before the start of conference play (Dec. 30 at TCU), Kansas is in the process of fine-tuning its attack to be ready for the rigors of Big 12 play.
Defense, getting the big men going and finding ways to score closer to the basket so they don't have to be so reliant on the 3-point shot all remain key areas of emphasis for the Jayhawks, who have won nine in a row since opening the season with a loss to Indiana in Honolulu back in November.
A tough game against a well-coached opponent in a venue that has delivered losses this time of year in the past and a true road contest one week later (Dec. 22 at UNLV) figure to be the perfect final tune-ups, providing Kansas unique challenges and ample rest at the same time.
Probable Starters
No. 3 Kansas
G – Frank Mason III, 5-11, 190, Sr.
G – Devonte' Graham, 6-2, 185, Jr.
G – Josh Jackson, 6-8, 207, Fr.
G – Lagerald Vick, 6-5, 175, Soph.
C – Udoka Azubuike, 7-0, 280, Fr.
Davidson
G – Jon Axel Gudmundsson, 6-4, 190, Fr.
G – Jack Gibbs, 6-0, 195, Sr.
G – Rusty Reigel, 6-2, 205, Jr.
F – Peyton Aldridge, 6-8, 225, Jr.
F – Will Magarity, 6-11, 240, Jr.