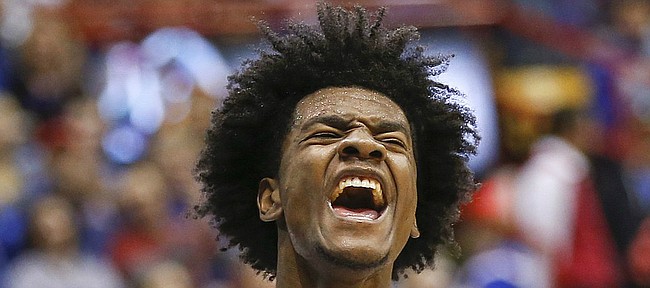 Pests on a basketball court don't stand 6-foot-8. They're 5-8. They don't make it to the top of the national high school recruiting rankings. They make the team on the last cut in high school because they forced their way onto the roster with sheer hustle.
A pesky pest doesn't play that way because it's how he dreamed of playing from the moment he made his first basket as a small child. He does it because if he relented for a minute, he would have to sit and watch more talented athletes hog all the minutes.
So how do you explain Kansas freshman Josh Jackson? You don't. You just enjoy watching him play in the face of his opponent, stealing rebounds, passes, loose balls.
Regardless of the strength of the foe, Jackson plays as if tryouts have come down to the final cut and his ability to disrupt the opponent represents his best chance to see his name posted on the locker room door along with the rest of the taller, more skilled, more naturally gifted basketball players.
Jackson is what happens when the spirit of an overachiever percolates inside a remarkable athlete. Put him on the perimeter with two extremely talented, experienced, tough guards in Frank Mason and Devonte' Graham, and watch him get better right before your eyes.
Jackson makes for an interesting study in contrasts.
If you're lost in a maze of hallways trying to reach Horejsi Center, Jackson's the one who will stop and point you in the right direction. At press conferences, he consistently reveals that he's bright and polite.
And then the game starts and something inside of him changes. The beast within takes over.
Maybe he pumps adrenaline at an abnormal rate. Whatever the cause, his motor runs extremely hot and he becomes hyper-focused on how to gain possession of the basketball when the other team has it, or when it's in the air after either being passed or shot, or when it's on the ground in nobody's hands.
And then there are his blocked shots out of nowhere, or his steals on outlet passes because he hovered. His fingerprints are all over a basketball game.
Coach Bill Self praised Jackson's ability to pass from the middle of the zone and at the start of the break after he helped Kansas to blow out UMKC, 105-62, with 19 points, 12 rebounds (six offensive) and five assists Tuesday night at Allen Fieldhouse.
The Self comment about Jackson that stood out the most: "He's just now starting to get it."
That's pretty scary.
Jackson's eagerness to spend so much time near the basket speaks to his intelligence. Too many prospects think the best way to impress NBA scouts is to show that a perceived weakness is actually a strength. Jackson's jumper trails the rest of his game. Many in his situation would go out of their way to showcase it to try to show it's better than advertised. In reality, what scouts look for are athletes smart enough to figure out the best way to make as many winning plays as possible during a game. Jackson passes that test nightly, which makes him a terrific teammate.
He works on the jumper behind the scenes and in fact made a nice one in Tuesday's game, but most of his shots came closer to the hoop.
Jackson was smart to join a team with two terrific guards established enough not to be star-struck when he walked on campus. Quite the contrary.
"I remember giving him a lot of crap this summer about him not being able to shoot," Graham said. "It was when he first came in, playing pickup, telling him that he can't shoot, just trying to get in his head. I think he got in the gym and started putting up shots. It looks weird, but it goes in, so we just tell him to keep shooting it."
Jackson's three-point shot has a long way to go, but it's not as if he's in denial about that, as evidenced by his only attempting 19 in nine games. He has plenty of time to fix that and NBA scouts aren't going to hold it against him if he keeps his game inside the arc at the age of 19.
Again, Jackson doesn't appear as if he's worried about what scouts are thinking. He's thinking about making winning plays, which makes him a winner, an extremely entertaining winner to watch play basketball.