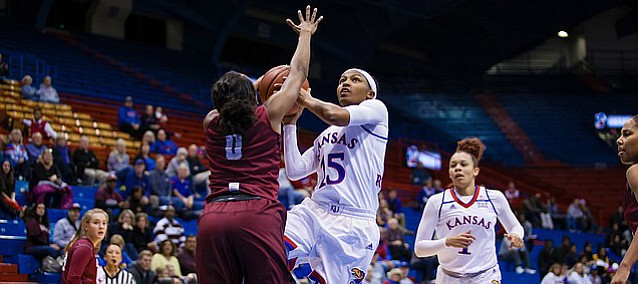 Kansas women's basketball coach Brandon Schneider chose to shake things up after his team had dropped its last two games Wednesday.
"I was just trying to get a little bit of a better start," Schneider said. "Just trying to get a little bit of a pop. I did think we got off to a good start. We played with pretty good energy."
However, even though the start was better, the result was much of the same.
Harvard (8-1) scored 35 combined second-half points, including 22 in the fourth quarter, to hand KU (3-5) a 69-59 loss at Allen Fieldhouse. With the win, the Crimson have now tied its program's best win streak of eight straight games.
"We didn't play with the kind of collective effort and toughness that you have to play with consistently to be competitive in a game like this," Schneider said. "They are having a terrific season. But we have to play hard every tick of the clock to give yourself a chance to win."
But for a brief moment following the tipoff, it looked as if the Jayhawks just might get back in the win column.
Schneider trotted out a starting five of Chelsea Lott, Timeka O'Neal, Jayde Christopher, Chayla Cheadle and Kylee Kopatch. Both Chistopher and O'Neal were getting their first start, while Lott earned her second.
This put leading scorers junior Jessica Washington and sophomore McKenzie Calvert on the bench to start the game. Entering Wednesday, both had started all but one contest of the young season.
"I think he was trying to shake things up," Harvard coach Kathy Delaney-Smith said. "I honestly thought his game-plan was great. We are very young and they are very athletic. We haven't seen anybody pressure us like that. But it's hard to do that for 40 minutes."
The new-look five jumped out to an 8-0 advantage, before Schneider elected to use his first reserve, senior Sydney Umeri.
It wasn't until the 4:41 mark that Washington and Calvert entered the contest. And yet the Jayhawks managed just one field goal the remainder of the period to fall into a 17-13 deficit.
"We definitely came out a little stronger, we felt good about that," O'Neal said. "We just have to maintain the lead and have enough energy."
To start the second quarter, Schneider again went to his first rotation. Kansas reclaimed the lead, going on an 8-3 run before going back to the bench.
This time, however, the Crimson was unable to gain much separation before the intermission as they held onto a one-point advantage.
For a brief moment to start the second half, the original fivesome trotted back onto the court. But they would not replicate their first half success, falling into an early hole before Schneider went back to the bench.
The starting unit ended the night outscoring its opponent, 18-6, but in a very small sample size.
"We didn't really play as a team," O'Neal said. "We are very capable of beating the teams we have lost to. We just need to figure something out and come together."
But it wouldn't matter which lineup took the floor in the second half as Harvard cruised to a double-digit victory.
The Crimson played efficient team defense, keeping all but one player (Cheadle, 11) from double figures. Washington was held to nine points on 12 shots, while Calvert recorded two points on five shots.
On the flip side, the Jayhawks were unable to play team defense, letting the opposition shoot 40.9 percent from the floor. Four different Harvard players posted double-digit scoring efforts, with Destiny Nunley and Jeannie Boehm leading the way with 12 apiece.
"I think they got a little tired, that's a hard game plan," Delaney-Smith said. "We have a lot of good shooters. I think we have this belief that someone is going to hit the three. We hit our shots and they didn't."
It remains to be seen who will get the nod come Sunday. Regardless, it will be equally important as to who finishes it.
Kansas will play host to Rhode Island at 2 p.m.