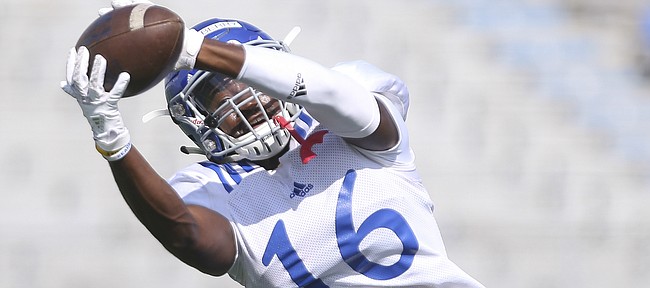 One of the room's senior leaders, Brandon Stewart arrived a good half-hour early for a morning cornerbacks meeting at the beginning of preseason camp. Experienced at a spot where such a quality is scarce on the Kansas roster, Stewart wanted to make sure he got in some extra video study before assistant coach Kenny Perry and the rest of the Jayhawks in his position group congregated to talk technique and schemes.
But the senior wasn't alone. True freshmen Mike Lee, who KU now lists as a safety, and Kyle Mayberry were right there with him, ready to dive in.
After practices, Stewart says, it was no different. Lee, a four-star recruit according to Rivals, and Mayberry, a three-star prospect, would hop in the cold tubs after practice alongside the veterans and then get back to watch more video.
So Stewart doesn't blink when he hears Perry, KU head coach David Beaty or defensive coordinator Clint Bowen commend a couple of players who have yet to experience a game-day snap of college football.
"I speak highly of them, too," Stewart said. "I feel like they're doing well, especially at a young age. They ask questions, man. You can tell they want to get better, want to learn."
It takes a distinct kind of personality and athlete to play in the secondary, and while plenty who choose those high-pressure positions don't mind talking about their skills on and off the field, Perry said the inquisitive natures of Lee, Mayberry and many of their fellow newcomers encourages him. KU's cornerbacks coach described his freshman group as football savvy and noted Mayberry and Julian Chandler have progressed nicely since the opening days of camp.
Sometimes, having too many first-year players can be a problem for coaches. Perry has four true freshman in his group — Chandler, Mayberry, Shola Ayinde and Ian Peterson — now that Lee has slid over to safety. However, he said teaching so many beginners hasn't held back the rest of the unit.
"The longer it takes to fix a mistake the less you're teaching them something else. These guys are kind of getting it and they're understanding," Perry said of the freshmen, "and we're moving on to the next stuff, the next process."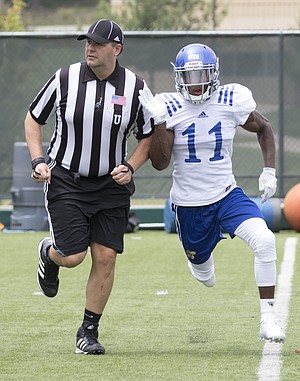 Both Lee, who graduated early from Landry Walker High, in New Orleans, a year early in order to get a head start on his college career, and Mayberry, from Booker T. Washington High, in Tulsa, Okla., figured to come in and compete for playing time. Earlier in preseason camp, Bowen said both freshmen might have a chance to start at some point this season.
Lee didn't get to campus until the start of camp, unlike many freshmen who arrived earlier in the summer. Still, Beaty called the 5-foot-11, 176-pound defensive back one of the most instinctual players he has seen.
"That dude's fast," Beaty added of Lee. "The first couple of days I don't think he knew what he was doing, and he was still around the ball."
KU's head coach also thinks highly of Mayberry's speed and physical play, saying the 5-10, 175-pound corner plays a lot bigger than he looks. Beaty said Mayberry's talents and savvy make him a quick study.
"He's given up a couple of (plays) but the thing I like about watching Kyle, you're not gonna get him a second time," Beaty said, adding that characteristic reminds him of KU senior linebacker Marcquis Roberts.
When KU's veterans interact with their highly touted freshman teammates, junior Derrick Neal said they try to stay on Lee and Mayberry. Neal said the duo do a nice job of focusing on technique and improving.
"For those guys, coming from high school, I kind of feel their pain. High school and college are just two different things, especially on the defensive side of the ball, because quarterbacks can actually throw the ball in the right spot," Neal said. "A lot of guys that come from high school straight to college have a problem with just bad habits … and looking back at the ball when you're not supposed to. But I feel like they have worked up to that point where they're getting it together and they're focusing more on their technique."
In order to get his youthful corners as ready as possible for the coming season, Perry said he rotates them in and out with the second- and third-string groups. Mayberry, the coach added, runs with the second unit a lot.
When KU opens the season on Saturday against Rhode Island at Memorial Stadium (6 p.m. kickoff), Perry hopes to rely on his "old guys" at corner, such as Stewart, Neal and senior Marnez Ogletree. But he won't hesitate to get Mayberry on the field, either.
"I love playing young kids, I really do," the coach said. "I think when you play those guys, I mean, they're gonna make mistakes, but they're eventually gonna make you better late in the season."
Lee and freshman safety Bryce Torneden, from Lawrence's Free State High, figure to be involved in the defensive game plan early in the season, too.
Given what he's seen so far from Lee and Mayberry, Stewart thinks their levelheaded approach will serve them well.
"Some guys don't get that til they're in the last two years or year of their eligibility. And they're doing it early," Stewart said of their attention to even the smallest aspects of improving. "Coach Beaty, his staff obviously know what they're doing. They're recruiting people. You've gotta love that, man."