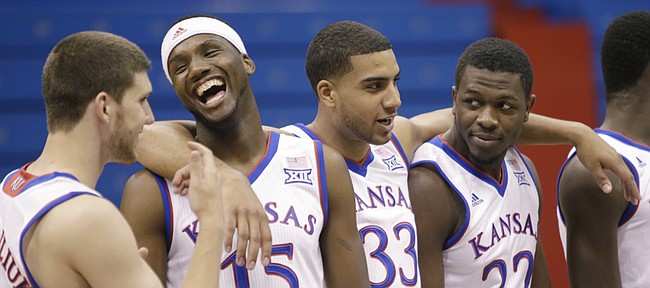 With four of the eight forwards listed on the 2015-16 roster not returning for the upcoming season, the opportunity exists for a big man or two to fill a couple of important roles for the Kansas men's basketball program.
Gone are regular contributors Perry Ellis and Jamari Traylor. Absent from the pack is the potential and athleticism of one-and-done NBA draft pick Cheick Diallo. Even occasional off-the-bench spark Hunter Mickelson has graduated.
As usual, KU coach Bill Self anticipated the heavy hit to his frontcourt and newcomers Udoka Azubuike and Mitch Lightfoot are in place to try to fill some of those shoes.
But arguably the most intriguing option in KU's new big man rotation is former Ole Miss transfer Dwight Coleby, a 6-foot-9, 240-pound junior who sat out during his transfer season because of NCAA rules and rehabbed a knee injury in the process.
Coleby is one of just four players taller than 6-8 listed on this year's roster, but his time away from the court makes his potential impact hard to gauge.
"He's been cleared," Self reiterated recently when asked about Coleby's status. "So there shouldn't be anything holding him back."
There's a difference, of course, between a coach saying nothing should be holding one of his players back and the mindset of the player who is battling to return.

"The one thing that's been hard on him has been confidence," Self said. "He didn't have the confidence this summer to let it go, so that's why we kind of held him back. But it's been enough time and the doctors say he's in good shape physically, so he's gotta let it go."
After landing Coleby 15 months ago, Self had high hopes and high praise for the Bahamas native.
"He reminds me a lot of Darnell Jackson," Self said of Coleby before the injury hit. "I think he can be a Darnell Jackson-type player. He's got a great motor. He can play on the block. He can play facing. He's a premier athlete and should be a solid rebounder and defender right off the bat."
Whether those expectations remain or have been slightly modified remains to be seen. Either way, it's clear that, given the loss of so many frontcourt contributors from last season, Self and company could benefit from Coleby filling some kind of role in KU's big man rotation.
Coleby will be joined by senior Landen Lucas (6-10, 240), sophomore Carlton Bragg Jr. (6-9, 230) and freshmen Udoka Azubuike (7-0, 280) and Mitch Lightfoot (6-8, 210) on KU's guard-heavy roster heading into the 2016-17 season.
Samuels picks Nova
About a day after narrowing his list of suitors to a Final 5, Class of 2017 small forward Jermaine Samuels orally committed to Villanova.
Samuels, a four-star prospect ranked No. 49 in the class according to Rivals.com, chose the defending champs over Duke, Georgetown, Indiana and Kansas. The 6-foot-6 forward announced his commitment on Twitter, saying, "There's no point in waiting when you know where you want to be."
Jayhawks tapped 5th
Athlon Sports released its preseason Top 25 this weekend and Self's Jayhawks landed in the No. 5 spot.
Duke, Kentucky, Villanova and Oregon filled the first four spots and Kansas rounded out the Top 5.
Of Kansas, Athlon's David Fox wrote: "The Jayhawks will be aiming for 13 Big 12 titles in a row. The ageless Perry Ellis is gone. The core of Frank Mason and Devonte' Graham welcome the top freshman in the country in guard Josh Jackson."