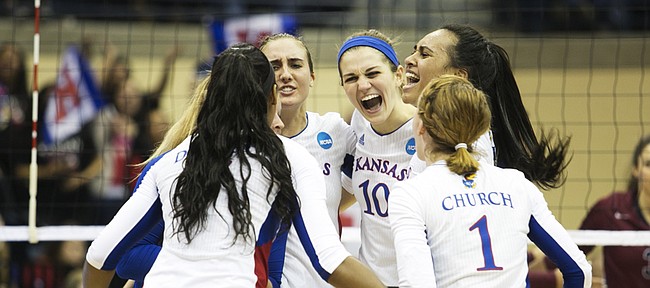 The Kansas volleyball team is starting off the 2016 season very near where it ended 2015.
After finishing with a final ranking of fourth in the American Volleyball Coaches Association poll following its first ever trip to the NCAA Final Four a season ago, the KU volleyball team opens the season ranked No. 5 in the AVCA preseason coaches poll.
Dating back to last season, the Jayhawks now have been ranked in the Top 25 for a program-record 15 consecutive weeks, including 11 straight weeks in the Top 10.
The No. 5 preseason ranking marks the highest debut ranking in KU volleyball history and also represents the first time in program history that the Jayhawks made an appearance in the AVCA preseason Top 25.
Five of KU's regular season opponents are either ranked or receiving votes in the preseason poll, including No. 2 Texas, No. 18 Creighton and No. 20 Purdue. Fellow Big 12 programs TCU and Iowa State also are receiving votes.
Kansas returns five starters, including preseason Big 12 player of the year Kelsie Payne, from a team that finished the season with the best winning percentage in program history (30-3, .909) last season.
The 2016 season opens Aug. 26 at Mississippi State.