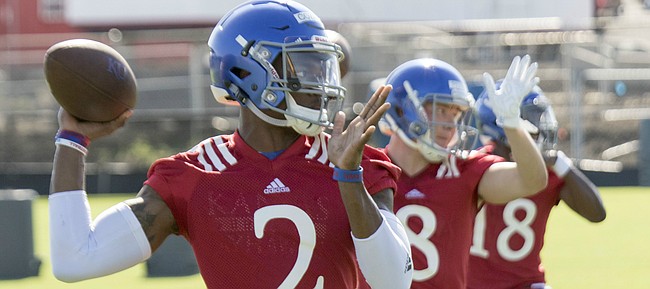 While more contact guidelines and better awareness regarding head injuries have come about in recent years, Kansas coach David Beaty wonders why college football players aren't better protected in practice at the start of every season.
Since Monday, at KU's fifth practice of preseason camp, the Jayhawks have run through drills and plays in full pads. It's those first couple of August camp sessions, though, that miff Beaty.
The NCAA mandates Division I players only practice in helmets and shorts the first two days of camp. Shoulder pads are added for the third and fourth days. Then full pads are allowed beginning on Day No. 5.
While his Jayhawks certainly didn't simulate live situations or sprint around tackling each other the first two days, football by its very nature tends to involve some kind of contact, so Beaty would like to see some amendments to the way teams can outfit their players to open camp.
"It actually concerns me. We need to put pads on them early," Beaty said of those helmets, jerseys and shorts practices, "because it's too dangerous. You're bound to run into each other but you don't have any pads on. It doesn't make sense to me from a health standpoint."
Given the presence of helmets and the absence of any other protective gear, Beaty guessed players "all over the country" suffered from shoulder injuries during the first few days of August.
"I just think that we should start with shells to be honest with you, 'cause it's just too much risk," Beaty said. "You're hitting people with face masks and shoulders and these are big bodies moving around."
Nonetheless, Beaty said the Jayhawks handled the preseason standard well. Kansas sophomore defensive end Dorance Armstrong Jr. suffered the only significant ding the first two days, an unspecified injury that inspired Beaty and KU's training staff to ask the standout lineman to refrain from practicing "for a couple days."
Kansas practices have been closed since Monday, and Beaty hasn't spoken with media since before Monday's practice. The Jayhawks, after a two-practice Tuesday, had Wednesday off. They're scheduled for two more practices today.
The Fish effect
Beaty likes to joke he doesn't want senior safety Fish Smithson leading Kansas in tackles this season.
The last line of defense in KU's secondary, the 6-foot defensive back racked up a team-best 111 total tackles in 11 games (Smithson missed the West Virginia loss with an injury) during the Jayhawks' winless 2015 season, and even led the nation with 7.9 solo tackles a game.
His head coach definitely appreciates Smithson's nose for the ball and assertive approach. Beaty just wants far more production from KU's front seven. The coach said if the linemen and linebackers can take care of business defending the run (Kansas opponents averaged 5.7 yards a carry last season), defensive coordinator Clint Bowen and his staff can get more creative schematically.
On the other hand, Beaty added, Smithson is so talented on the back end of the defense it should allow KU to try some different things up front.
"We've got a long way to go," the coach said of KU's defense. "We're making progress, but we're just like everybody else in the country. We don't know. We've gotta put it on the field and see.
Garza gone
Offensive lineman Aaron Garza is no longer with the KU football program. Garza red-shirted in 2015, participated in spring football and appears in the Jayhawks' 2016 media guide, but KU removed him from the official roster at the beginning of preseason camp.
According to Garza's Twitter account and a series of tweets the last several days, the Sherman, Texas, native has transferred to Sam Houston State.