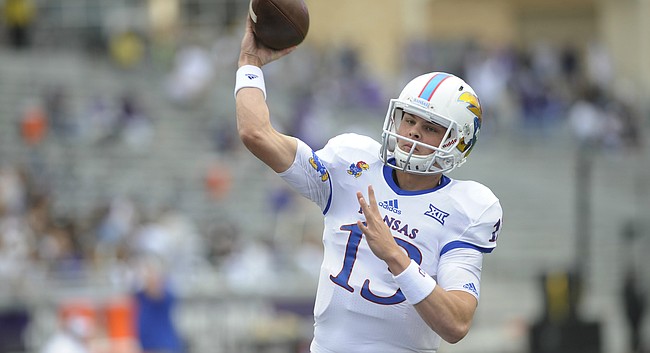 The 200 or so students and faculty members who showed up to Memorial Stadium on Tuesday to watch the 14th practice of Kansas University's spring football season were gifted with a pleasant surprise.
Sophomore quarterback Ryan Willis, who was limited most of the spring after suffering a right wrist injury playing pick-up basketball in early March, was back throwing the football during a handful of Tuesday's early drills.
Working with fellow-quarterbacks Montell Cozart, Carter Stanley, Keaton Perry and Deondre Ford, Willis threw a smaller, red-and-blue Nerf football while the other QBs used regular footballs.
KU coach David Beaty was not scheduled to talk with the media after practice, but the softer, smaller ball likely was used to ease Willis back into the throwing motion and make it easier to grip.
Willis, who started the final eight games of 2015 after spelling an injured Cozart, dressed but missed last weekend's annual spring game because of the injury, which, initially, required a cast on Willis' right forearm. The cast has been off for several days — Willis also spent time in some type of soft cast — but Willis, for now, remains limited to light throwing and observing during full-contact drills.
Beaty said after the spring game that Willis was progressing nicely and should be on pace to resume work this summer and into preseason camp.
Willis' return figures to be a welcome sight for the Jayhawks, who watched their quarterbacks throw four interceptions during last weekend's spring game. And Beaty said he was looking forward to getting a fresh look at his young QB who set a few Kansas freshman passing records last season.
"It's been hard to evaluate him," Beaty said of Willis after the spring game. "But the other guys, we've got great evaluation on, which is going to be helpful moving forward."
The Jayhawks will wrap up spring practices Thursday.