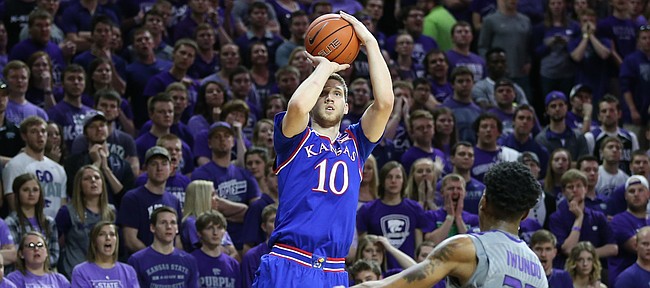 Twitter is quickly becoming a friend of Kansas University's basketball program.
Sophomore guard Sviatoslav Mykhailiuk took to the online social networking service Tuesday afternoon to announce he would be returning to KU for his junior season.
Svi's proclamation appeared on iPhones and Internet browsers alike a mere 22 hours after prize senior high school prospect Josh Jackson tweeted his intention to become a Jayhawk.
"Coach and I (have) been talking and I decided that I'm not gonna test and I'm excited to spend my junior year as a Jayhawk. Rock Chalk," Mykhailiuk tweeted at 5:30 p.m.
KU coach Bill Self explained Svi's reasoning in a phone conversation with the Journal-World.
"I think the way the rules are set up gives everybody an opportunity to test (by attending NBA Combine if invited and one individual workout) but in Svi's situation ... what he shared with me is no matter where he would test at right now, he knows a year from now would give him a much better chance to have a career," Self said. "The way he said it was, 'Coach, I don't need to look into it because I know I'll be much better next year.'''
Mykhailiuk, who averaged 5.4 points a game while logging 12.8 minutes per game in 35 games, will turn 19 on June 10.
"We know Svi's ceiling is high, but he hasn't probably had the opportunity nor the consistency to show that yet in large part because of Brannen (Greene) being here. Also he came in here with (Kelly) Oubre and Greene and Wayne (Selden) and playing Frank (Mason III) and Devonté (Graham) a majority of the time together there probably have not been enough minutes nor the time for him to probably demonstrate what he can do," Self said.
The 6-foot-8 Mykhailiuk, with Self's permission, is planning on working out with one of Ukraine's national teams this summer. Svi doesn't know yet which team it would be or which international tourney he'd compete in for Ukraine.
"He said, 'I am going to play for my national team this summer. I want to go there and really be aggressive and be a lead guy as opposed to a guy just playing minutes off the bench. I want to come back and want to be ready to hit the ground running in the fall,''' Self said.
It's almost certain Svi would test the NBA draft waters after his junior season.
"Next year obviously would be the year in my opinion would be his time to go ahead and look into it," Self said.
Scholarship situation: KU currently has 10 players on scholarship if one assumes Carlton Bragg Jr., is staying for a sophomore season and Cheick Diallo is leaving after one campaign. They include perimeter players Mykhailiuk, Mason, Graham, Jackson and Lagerald Vick, plus bigs Bragg, Dwight Coleby, Udoka Azubuike, Mitch Lightfoot and Landen Lucas.
That leaves three available scholarships, four if Bragg decides to turn pro.
"I don't know," Self said, asked how many more he'd like to sign. "A lot depends on Carlton's situation. We could maybe take one more and see what happens with transfers. I'm really liking the way our roster is taking shape," Self added.
Bragg hinted strongly on Twitter on Tuesday night his decision was coming soon.
"You will know tomorrow," Bragg tweeted to a fan who asked the Cleveland native if he was "coming back or not?"
It led to speculation Bragg could make his intentions known at tonight's KU basketball banquet, which is sold out. That Twitter interaction between Bragg and the fan, by the way, had been deleted by late Tuesday night.
Diallo not on campus: KU banquet goers should not expect to see freshman Diallo tonight. He's been out of state working out for the draft and not expected to be in attendance for the event.
"We don't anticipate Cheick being back (for soph season). (It's) not official yet, but we anticipate Cheick staying in the draft," Self said. Diallo, who is considered a possible late first-round pick, is currently listed as the sixth pick in the second round by draftexpress.com.
More on Josh: ESPN's Jeff Borzello has offered their opinions on Josh Jackson's commitment to Kansas.
From Borzello: "I think he sees he can start right away at Kansas. He can slide right into the small forward spot. He sees what they did with Andrew Wiggins. He ended up being the No. 1 pick in the draft. I think Josh sees himself in the same mold — two-way player who can defend, score. I think Kansas is the perfect fit for him. I think that's the place he can make the most impact right away."
Ferguson to announce: Terrance Ferguson, a 6-6 senior shooting guard from Dallas, who is ranked No. 12 nationally by Rivals.com, will announce his college choice today, ESPN reports. Arizona is considered the favorite with KU, Baylor, Maryland, North Carolina and N.C. State also on his list.
Ferguson committed to Alabama in the fall but reopened his commitment and has since visited Arizona. He last week said he wanted to visit North Carolina but has changed his mind and instead will announce today.