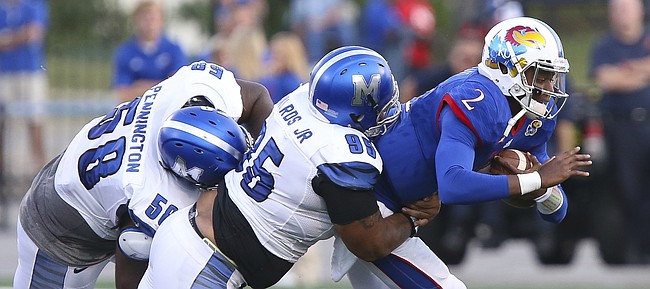 A football team that doesn't complete down-field passes faces defenses that have the advantage of forever playing as if it's in the red zone, crowding the short field with bodies.
Kansas, blessed with a terrific running back in Ke'aun Kinner, a pair of talented tight ends (Ben Johnson and Kent Taylor) and a quarterback (Montell Cozart) who makes defenses respect his running ability, has just such an offense. It can't stretch a defense.
Putting an accurate touch on down-field passes ranks at the top of Cozart's shortcomings. Kansas is one of 17 schools in the Football Bowl Subdivision seeking its first pass play of 40 yards or longer.
"We had a chance to make five plays that we missed," offensive coordinator Rob Likens said of the loss to Memphis. "The first one, to Ben Johnson, he hurried the ball. Then the one to Kent Taylor, he stood in the pocket, stepped up, I thought it was there, and he just overthrew him."
As always, Likens pointed out that it takes more than the quarterback to make it happen.
"We've got young receivers too," Likens said. "We've got to do everything right all the time for it to look good right now. And when we don't, it doesn't look good. That's what's happening."
Kansas has a better chance than on most weeks to look good because its opponent, Rutgers, has so many distractions working against it. Head coach Kyle Flood is in the midst of a three-game suspension. Six players, including three defensive backs, were dismissed in recent weeks, basically for embarrassing themselves and their university.
Rutgers is left with three true freshmen and one red-shirt freshman at cornerback on the two-deep chart.
Opportunity has a question, best sung by Mick Jagger, for the Jayhawks: Can't you hear me knocking?
Likens had hoped he would enjoy watching the game film for Rutgers, 1-2 and coming off a 28-3 loss to Penn State, more than he did. He studied last year's and this year's games.
"The kids are young, a little inexperienced in some areas," Likens said. "They did some things earlier in the year that you'd expect young guys to do. A few mistakes, not many. But they're really good players."
Eight of RU's nine defensive backs on the depth chart are either 6-foot-1 or 6-foot, "with long arms," Likens added of the four corners. "That always concerns you because they knock passes down. They're rangy and they're not afraid to tackle. They have to come in on run support and you would probably be concerned about that with young corners, but you look at it on film and I was hoping to see more of a weakness, but I didn't see that much difference from the guys they had last year."
So it comes back to Cozart being the one who has to show a difference, especially when airing it out.
"They're going to just keep creeping up, creeping up until you can prove that you can throw it behind them," Likens said of opposing defenses. Then he tried to take some of the responsibility for the shortage of long completions by pointing out that he has called for mostly short passes to enable Cozart to build confidence while learning a new system.
That doesn't explain the recurring overthrows.
I asked the OC whether drills or watching film plays a greater role in improving a quarterback's accuracy. He first addressed how drills can help.
"Accuracy, to me, is you've got to have your feet right," Likens said. "Obviously, he has to have some talent to start with. A lot of times your accuracy has to do with your footwork and your feet being off balance when you throw."
Next, he shared the value of watching film with a QB.
"Before the ball's snapped, having a really good idea of where you're going to go with the ball," Likens said. "Knowing where you're going to go with the ball as soon as possible. That's definitely a big thing and that comes from watching a lot of game film."
The mechanics that can lead to overthrows tend to be set in stone, Likens cautioned.
"You've got a lot of things going on. Feet, locking out his knee, his shoulder level, working on that a lot," Likens said of common mistakes on overthrows. "It's kind of hard once they get to this level as quarterbacks. Think about how many times they've thrown a football up until you're 18, 19 years old. If you don't like the way they do it, trying to change that is a very, very hard deal at this point in time in their career. That's why recruiting is so important, that you recruit what you want so that you don't have to change a lot of stuff once they get here."
Without seeing quarterbacks under game conditions, the Kansas coaches won't know if they have what they want. It's still Cozart's turn, and Saturday's 11 a.m. kickoff at Rutgers gives the junior from Bishop Miege a fair shot at answering opportunity's knock.