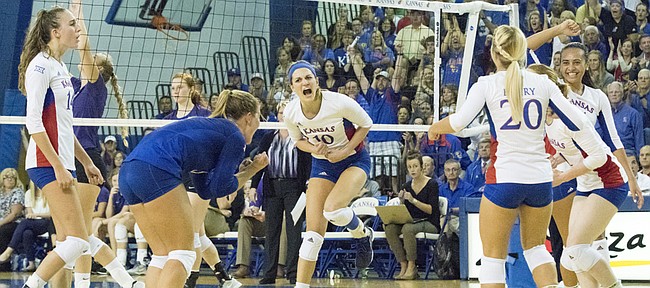 Kansas University's volleyball accomplishments to date — best start (12-0) and top national ranking (No. 15) in school history — looked good on the team's NCAA Tournament résumé, but in actuality meant little to the Jayhawk players entering Wednesday's match against Kansas State.
"We are treating this like a whole new season basically. You are talking about a segment of seasons — one ball, one set, one match at a time," KU junior libero Cassie Wait said after the Jayhawks improved to 1-0 in the Big 12, courtesy of a hard-fought 25-23, 19-25, 25-22, 25-21 victory over the Wildcats that took 2 hours, 2 minutes to complete.
"Just getting your first Big 12 win and working hard to get that was awesome," the Gardner native added after a match-high 27-digs performance.
Remember, the Jayhawks started the conference slate 0-3 a year ago before rallying to a 10-6 mark and runner-up finish.
Photo Gallery
Kansas Volleyball vs. Kansas State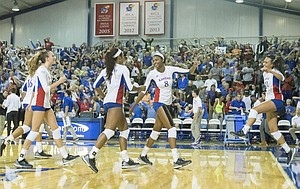 Images from Kansas' 3-1 victory over Kansas State on Wednesday, Sept. 23, 2015 at the Horejsi Center.
"It was really important. This is a really big deal for us to start off our season 1-0 Big 12," said sophomore hitter Kelsie Payne, who slugged a career-high 20 kills on a night the Jayhawks struggled to a .220 hitting percentage against a (8-5) KSU team that hit a meager .189. "I think every win is the biggest win of the year, but that one feels the best for sure," added the 6-foot-3 Austin, Texas, native.
The rivals, who KU coach Ray Bechard noted "played really, really hard," before the usual packed house in Horejsi Center, were tied 1-1 entering intermission. Deadlocked at 21, KU closed the third set 4-1 to grab a one-set advantage.
"It wasn't a thing of beauty in offensive execution, but boy, both teams played their butts off today definitely. Welcome to the Big 12. It's going to be like that," Bechard said. "I mean, you've got to grind out wins. We had to work extremely hard against a good team."
The fourth set was tied, 12-12, when KU sophomore Addison Barry of Topeka entered for the first time. The Jayhawks won three straight points off Barry's serve and nine of 11 points to snag a 21-14 advantage. KU went on to wrap up a 25-21 fourth-set victory.
"Addy is a little firecracker. When we're not doing so hot, she'll yell at us on the bench. She'll get in our faces," Payne said of the 5-foot-4 defensive specialist who had six digs in her one set played. "When she comes in and does well like that, it brings the whole team up and makes us believe more in ourselves," Payne added.
Madison Rigdon had 14 kills and Tiana Dockery and Tayler Soucie 11 apiece. Ainise Havili, who had 54 assists, had 13 digs, Anna Church 12 and Dockery and Rigdon 10 each.
"Ainise didn't have the choices she usually has because we didn't pass quite as well as we do, but that's the team on the other side of the net forcing you to do things you don't want to do," Bechard said. "There were some huge rallies late that we did convert that were big."
Of the close sets and close Big 12 match, Bechard added: "Our team needs to feel that because we're going to be in that a ton of times. We haven't played a five-set match yet, but that's coming."
The Jayhawks will travel to TCU for a 2 p.m. contest on Saturday. The time of KU's next home match, a week from Saturday against West Virginia, has been changed to 4 p.m., in Horejsi.
Notes: Kansas State leads the all-time series against KU in volleyball, 63-47-1. KU has won six of the last seven meetings. The teams went 1-1 last year with the road squad winning each time. ... KU is 7-13 all-time in Big 12 opening matches. ... KSU coach Susie Fritz played for KU coach Bechard at Barton County CC. ... KSU has lost four straight including matches to Wisconsin, Arkansas and Creighton at last weekend's Creighton Classic. ... KSU is 0-4 all-time against a ranked KU team. Wildcat freshman Alyssa Schultejans of Silver Lake had 12 kills and six digs. "She is an all-Big 12 level player. We did slow her down a little after the break. She had it going before the break. She's a great competitor," Bechard said. ... Faces in crowd included KU radio broadcasters Max Falkenstien and Bob Davis as well as several members of KU's men's basketball team. The Jayhawk basketball players leapt to their feet on several of Payne's monster kills.