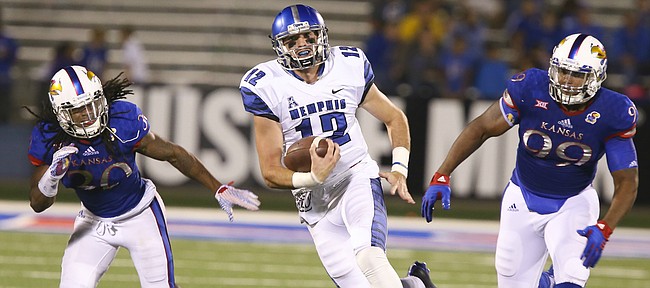 No matter the level of effort and creativity of the scheming, Kansas University's football team could play its way into the record books.
Specifically, the defense has a legitimate shot at breaking the NCAA record for most points allowed per game.
Louisiana-Lafayette's 1997 squad surrendered 50.3 points per game. Two games in, KU's defense has allowed 48 points per game, and nine of the 10 remaining opponents play in the pass-happy Big 12.
If Kansas stays in competition for infamy, a predictable reaction from many corners will echo during angry walks back to the car: Fire the defensive coordinator!
We all crave easy solutions to complex problems.
Overweight? Just write a check for a weight-loss program, and as soon as it clears, the weight will melt away.
Bad study habits? Take a class on how to study, and you won't even have to do the homework or pay attention to become a better studier.
Defense can't stop anybody? Just fire the DC, and with one easy move, all is well. If only life were that easy.
The long road to recovery for KU lies in defensive coordinator Clint Bowen and the rest of the coaching staff recruiting from the high school ranks more speed, size and football savvy.
At this point, as the oft-quote Joe Anonymous — or was it John Wooden? — once said, it's not about the X's and O's, rather the Jimmys and the Joes.
Memphis competes in the American Athletic Conference and doesn't have the advantage of recruiting to the Big 12, yet the Tigers' 11 defensive starters weighed an average of 230 pounds, compared to 220 for KU. Defensive tackles Corey King and Daniel Wise and D-end Ben Goodman were the only starters who weigh as much as Memphis quarterback Paxton Lynch.
And size ranks second to experience on the list of problems for the Kansas defense.
The Jayhawks are small up front, at linebacker and in the secondary. Depth at defensive tackle and cornerback is shockingly thin.
That's what happens when coaching staffs constantly are overturned. Prospects look for other schools. New coaches start relationships with recruits and high school coaches from scratch. The temptation to recruit transfers from four-year schools and junior colleges, a losing strategy, tests coaches' discipline.
At season's end, first-year head coach David Beaty will train his focus on convincing assistants to stay, not showing them the door.
— Tom Keegan can be seen Sunday nights on WIBW TV on "The Drive."