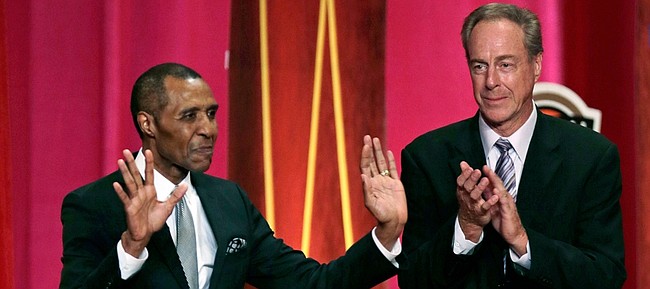 Dressed impeccably in dark suit and gray spotted tie, silk handkerchief in his left pocket, Jo Jo White stood tall and proud Friday night on the stage of the Springfield Symphony Hall in Springfield, Massachusetts.
The 68-year-old former Kansas University and Boston Celtics guard watched along with the many dignitaries on hand as his Naismith Memorial Basketball Hall of Fame acceptance speech played on the big screen.
"To the Hall, thank you for the tremendous honor," White said in the video. "In May 2010 I was diagnosed with a tumor on my brain. The doctor said I wasn't supposed to be here, but God had other plans, and for this I am truly grateful."
White is fully recovered. However, because of the stress involved in reading a long speech, his pre-recorded statement played on the big screen.
"I always strived to be the best," said White, a seven-time NBA all-star who won two world championships with the Celtics. He was MVP of the 1976 Finals.
"I tried out for my high school junior varsity team. I got cut. So what did I do? I went out for the varsity team and made it," White added to laughter and applause from the audience.
"Our team's head coach was a great role model who taught self-discipline and fundamentals of the game. Without that experience I would not be here today.
"I had two great mentors at the University of Kansas. My head coach, Ted Owens, and the team's assistant, Sam Miranda. To Sam and Ted, I love you.
"Being drafted by the Celtics was one of the best things to ever happen to me. Red Auerbach (owner) was tough and a blatantly honest guy who I love and have so much respect for," White added. "Our coach, Tommy Heinsohn was demanding and tough and always fair. And he was a winner. He always had my back. I had so many wonderful teammates over the years and I want to thank you all."
White also thanked many members of his immediate family, including his late mother and father.
"Jo Jo was an ironman for us. Any time the game was on the line, he was a dependable guy," said former Boston forward Dave Cowens, who presented White for induction.
"He was MVP of the (76) series. That's where you get the Celtic pedigree come into play. You never give up until it's over," noted fellow Hall of Famer John Havlicek of the Celts.
White, who had his jersey No. 15 hung in the rafters of Allen Fieldhouse in 2003 and Boston jersey No. 10 hoisted in The Garden in 1982, was inducted Friday with Dikembe Mutombo, John Calipari, Spencer Haywood, Dick Bavetta, Heinsohn, John Isaacs, Lindsay Gaze, Louis Dampier, Lisa Leslie and George Raveling.
Calipari, a former KU grad assistant for Owens and part-time KU assistant for Larry Brown, spoke of his KU days.
"I went to Kansas to work camp. The coach was Ted Owens. He said, 'I want you to stay on my staff.' I said, 'Really?' As a volunteer. (I said) how much does that pay?''' Calipari said to laughter. "I had an unbelievable time and learned from a great gentleman," Calipari added Owens.
"Then my great friend and mentor, Larry Brown, rolls in, hires me as part-time assistant. He gave me the best advice. He said, 'If you care about the kids and their success you'll always have a job.' You are right, coach," Calipari said, looking at Brown.
Of Brown, he added: "(He is) one of the great coaches not only this era but any era who has been there with me and been my protector throughout my career."