Although senior Ben Goodman and true freshman Dorrance Armstrong recorded two of Kansas University's three sacks during last week's season-opening loss to South Dakota State, the play of KU's defensive ends as a whole was a source of disappointment for the Kansas coaching staff.
"I don't think the first- and second-down play of those guys was really good," said KU defensive coordinator Clint Bowen of the performances by Goodman, Armstrong, Damani Mosby, Anthony Olobia and T.J. Semke in the opener. "Third down, Dorance Armstrong came in and had a nice pass rush. Goodman beat a kid on third down. But on first and second down, our conversion to pass rush wasn't as smooth and efficient, along with our gap control."
KU's fearsome fivesome at defensive end, which first-year head coach David Beaty and Bowen talked about all summer as being the strength of the team, combined for just seven tackles in the opening week and, perhaps more notably, rarely showed up in the flow of the game.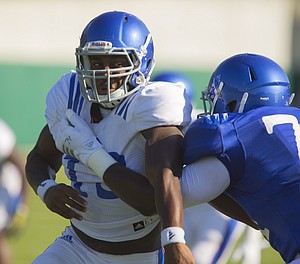 A greater emphasis, both from the coaches and the players themselves, on getting KU's D-ends more involved this week against Memphis — 6 p.m. kickoff today at Memorial Stadium — has dominated the week's preparations, and all parties involved believe things will be much improved during Week 2.
"We have got to be able to get better pressure on that quarterback early," Beaty said. "We did it late and it changed things for (SDSU). They still had receivers open. He just missed them because we hit (the QB) a couple of times and it changed who he was. And it does, for most quarterbacks.
"So we have got to create a better pass rush up front, and our guys know that. They see that now, how it all works together. It's never one guy's fault. It's a collective effort: Coaches, players, everybody."
Taylor nervous, tickled
Former Florida tight end Kent Taylor, who transferred to KU before the 2014 season and sat out all of last season after missing the 2013 season entirely, played in a live college football game last week for the first time since Jan. 2, 2013, a wait of 976 days.

Taylor, a 6-foot-5, 220-pounder who finished last Saturday's game with 25 yards and a touchdown on two receptions, said he was nervous before the game.
"It was great," Taylor said. "I've been waiting for that day to come around and being able to catch a touchdown was great, but I would've liked a win above all else."
As for what Nervous Kent Taylor looks like, the junior tight end who figures to be a mismatch advantage for Kansas all season said it had nothing to do with throwing up in a helmet or trash can in the locker room.
"No, no, nothing like that," Taylor said. "I'm usually real talkative and stuff, but when I'm nervous, I just don't say as much. ... But it was nice to see all of my hard work (go for) something other than practicing."
Series history
Today's game will be the first on the gridiron between these two programs. In its 125-year history, KU has played 25 games against members of the current American Athletic Conference which Memphis calls home. Kansas is 13-12 in those games.
The Jayhawks and Tigers do, of course, have some pretty significant history in another sport, with Bill Self's Jayhawks knocking off John Calipari's Tigers in overtime of the 2008 national championship game to give Kansas its first NCAA hoops title since 1988. KU owns a 6-2 all-time advantage over Memphis in men's basketball.
Tigers favored
After opening as a nine-point favorite, the Tigers immediately shot up three or four points and will enter tonight's contest as double-digit favorites.
Most sports books and betting sites list Kansas as a 13-point underdog to Memphis, which knocked off Missouri State, 63-7 in Week 1.